Hill Rom Hospital Bed Prices for Used / Refurbished Bed Models
For Quantities of 5 Bed Units or Less – Contact Us for Bed Pricing
of 5 or More Hospital Beds
Looking for a used or refurbished Hill Rom brand
hospital bed and Prices? We carry a wide selection of medical
beds manufactured by Hill Rom sold refurbished
to hospitals, medical – surgery centers, nursing schools,
nursing homes, convalescent homes and residential
homes around the United States and Canada.
Get pricing for current Hill Rom bed models below and
order 5 or more bed units and get reduced bed pricing
for bulk orders. Call for bed orders of 6 or more beds
at 858-263-4894 or 858-652-1259 or email us at
hospitaldirectmedical@gmail.com –
Hill Rom Bed Prices Below
Used Hill Rom Hospital Bed Pricing Sheet for Refurbished
Hill Rom Hospital Bed Models with 90 Day Parts WarrantyRefurbished Hill Rom Hospital Bed Prices
Beds shipped from San Diego, Chicago and Virginia
Hill Rom 840 Centra Bed
 = $750*Hill Rom 850 and 852 Century Bed = $850
Hill Rom Century P1400 Bed
 = $900
Hill Rom Advance 1000 Series Bed
 = $1000*
Hill Rom Advanta P1600 Bed
 = $1,200
Hill Rom P3200 Versacare Bed
$2,200
Hill Rom CareAssist ES hospital bed
 = $2,995.00
Hill Rom P1900 Treatment Bed
 with air flow mattress $3,500
Hill Rom TotalCare P1900 Sport 1 Bed
 with air mattress /
and auto patient rotation module $5,595.00*
Hill Rom P1900 TotalCare Sport 2 Bed
 with "low air loss" air mattress
and auto rotation and percussion vibration modules $8,500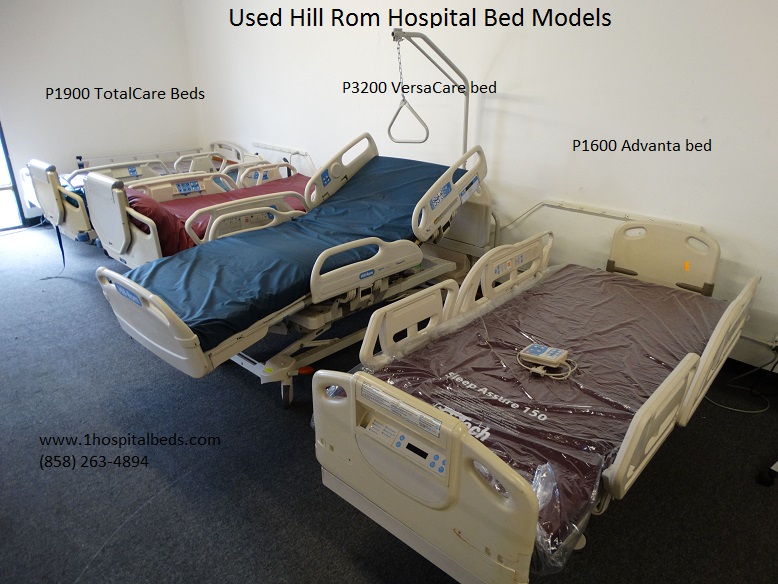 How Do Hill Rom Hospital Bed Prices Compare to Other Hospital
Bed Brands and Bed Manufacturers? 
Used Hill Rom beds offer some of the best valued bed products
for the price considering they are commercial grade beds with
full sets of patient controls on the inside of each rail allowing
patient to easily access bed functions. These beds are some
of the most durable beds made and most weigh between
400 to 600 pounds with solid steel bed frames. Prices
for new beds made for home use are often the same but
the features like a "chair position" and "Trendelenburg"
physical therapy features show how you can get more for
your money with other beds priced at the same amount.
For more pricing and current Hill Rom bed models
visit our hospital bed store showroom or call us
at 858-263-4894 or 858-652-1259 or email us with
Hill Rom bed pricing questions at:
hospitaldirectmedical@gmail.com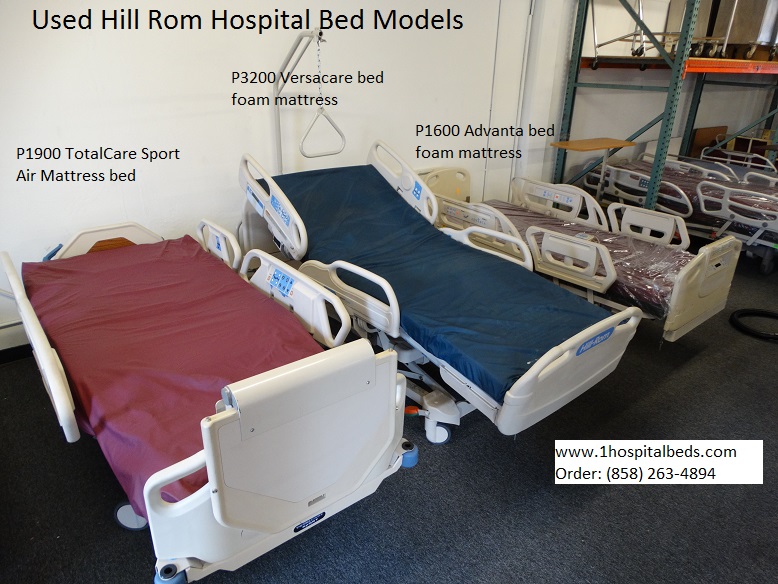 About Hill Rom Brand Hospital Beds
"Hill Rom" is a premier hospital bed manufacture in the
United States and their bed models are known to be reliable
and durable. These hospital beds come out of service in
hospitals and are refurbished and  resold to hospitals,
nursing homes, convalescent homes, nursing schools,
homes and International hospitals all over the world.
Hospital Direct Medical Equipment Inc. sells all models of used
and refurbished Hill Rom hospital beds and ships them all
over the United States and the world. Our Hill Rom hospital
bed refurbishing warehouse has certified bed technicians
who get the beds ready for patient use in hospitals, medical
centers and homes around the United States, Canada,
Mexico and the world. Contact us for Hill Rom bed prices
and availability at 858-263-4894 or 858-652-1259 or
email us at hospitaldirectmedical@gmail.com
| | |
| --- | --- |
| Was This Article Helpful? | |