Barimaxx 2 Bariatric Hospital Bed – Sold New and Used – Refurbished 
BariMaxx® II is a full-feature bed designed for obese patients weighing up to 1,000lb. It features flexible patient positioning with 36″-48″ width expansion while patient is on bed. An integrated scale system is included. We sell this hospital bed model both new and used and can provide
pricing based on how many bed models the customer needs and where they need to be
shipped to. Used – refurbished bariatric bed models are available and pricing starts at $2,500
and goes up depending on mattress system provided.
Contact us for pricing and availability at 858-263-4894 and at 858-652-1259 or email
us at hospitaldirectmedical@gmail.com for more information.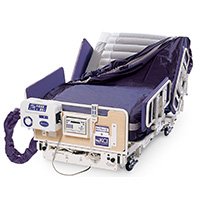 Bariatric Hospital Bed Benefits
• AtmosAir™ Fit MRS with Self Adjusting Technology™ is the standard surface on all BariMaxx™ II beds in order to provide continuous, non powered, non foam pressure redistribution surface to help reduce the risk of pressure ulcers
• Trendelenburg and Reverse Trendelenburg positioning via fully electric controls makes it easy to position patients
• Padded and expandable side rails help enhance patient safety and comfort
• Expandable bed width from 36″ to 42″ to 48″ accommodates larger-sized patients
• Integrated scale with display panel on footboard helps track patient weight without transferring patient
• Dual brake pedals and steering locks on casters
• Low bed height (17″) eases patient's entry and exit
• Side-of-bed exit for ambulatory patients
• Bed controls at foot end and hand pendant with patient lock-out safety feature
Patients weighing up to 1,000lb
Patients at risk for pressure ulcers
Patients requiring daily weight monitoring
Patients with a total weight in excess of 1,000lb including accessories
Unstable Vertebral Fracture
Cervical and Skeletal Traction
Length: 90.4″; width: 41″-54″; height: 17.5″-26″.
Barimaxx 2 Hospital Bed Information Brochure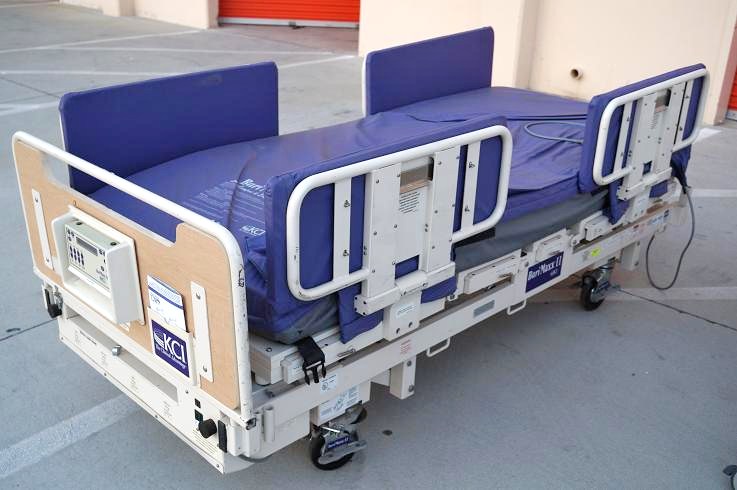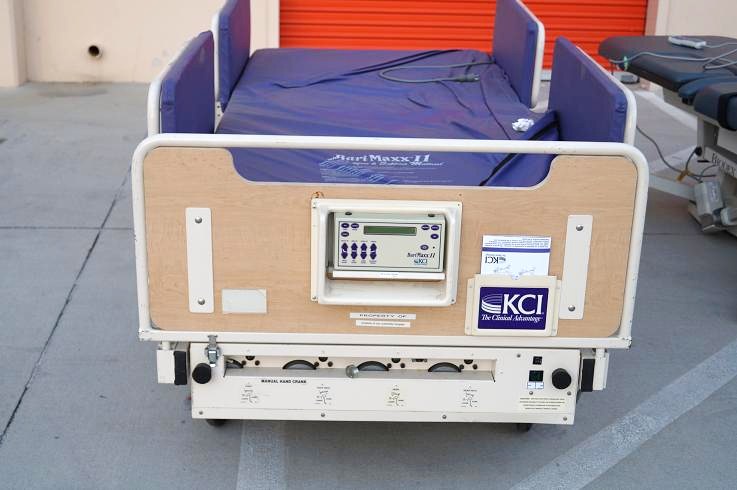 Barimaxx 2 medical bed brochure – get more information on this bariatric bed
and features at the link below. Contact us with pricing, availability and questions
at 858-263-4894 or email us at hospitaldirectmedical@gmail.com
Barimaxx 2 Bariatric Hospital Bed brochure
Looking for a bariatric hospital bed? we carry a wide variety of medical
bed models, sizes and weight capacity options. Contact us direct for
more information at 858-263-4894 or email us at hospitaldirectmedical@gmail.com

Hospital Direct Medical Equipment
"New, Used and Surplus Medical and Hospital Equipment"
4901 Morena Blvd. #600
San Diego Ca., 92117
9AM to 5PM Mon-Fri
10AM to 2PM Saturday
USA Office phone: (858) 263-4894
USA Email: hospitaldirectmedical@gmail.com
Mexico / Latin America
Gloria Flores (858) 263-4894
Cell 858-922-6862