Refurbished Hill Rom CareAssist® ES Hospital Bed
Full Electric "Med-Surg" Medical Beds
Hill Rom Care Assist ES Hospital Bed Prices:
Fully Reconditioned with 1 Year Warranty and New Mattress = $3,950.00 plus shipping costs
Refurbished with new mattress = $2,400.00
Call us for beds sold "as is" and for bulk bed prices for large orders
at 858-263-4894 or at 858-652-1259 
The Hill-Rom "CareAssist" hospital bed is one of the
newest beds in the used-refurbished bed market.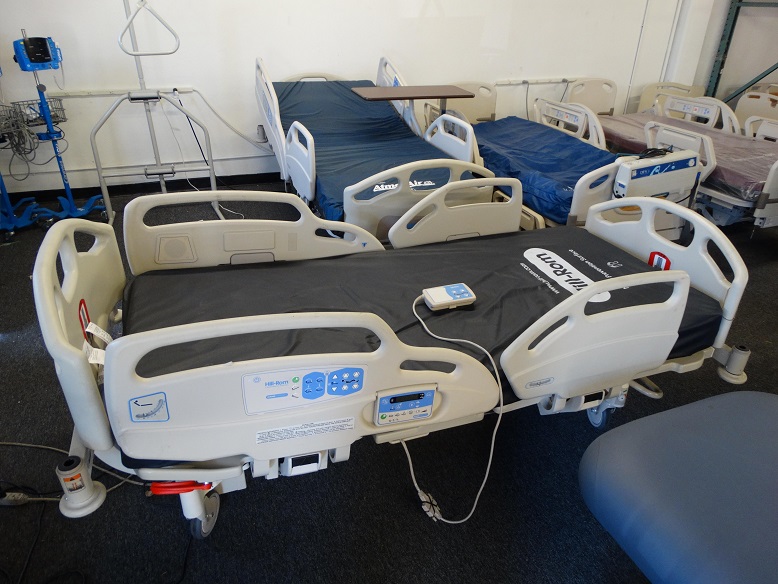 With a modern look and rail system, scales,
a chair position and plastic bed pan this
medical-surgical hospital bed is perfect for
supply chain managers looking for a reliable
bed with new looks.
The CareAssist® ES Medical Surgical Bed provides essential and dependable technologies for delivering effective quality care. The CareAssist ES Med Surg Bed provides easy to use solutions to help caregivers manage patient safety, comfort, and positioning. With its transport capabilities and easy maintenance, this med surg bed meets the fundamental needs of the care setting.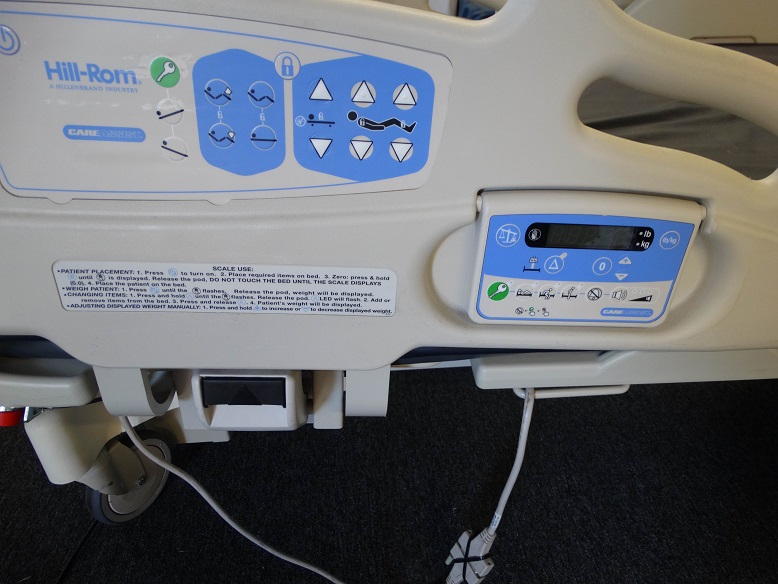 Smart Bed technology enabled for connectivity with NaviCare

®

Nurse Call, other nurse call systems and EMRs.
SafeView

®

alerts
Bed exit monitoring system with Hill-Rom's patented three-level detection algorithms
Nightlight
Audible "brake not set" alarm
SlideGuard

®

bed articulation technology with autocontour
Electric vascular foot position
Integrated scale
Point-of-Care

®

nurse controls
One-button dining chair

®

Intellidrive

®

powered transport or central 5

th

steering wheel
Automatic battery backup
SideCom

®

nurse call and entertainment controls
One-hand bed extender

ORDER REFURBISHED CAREASSIST HOSPITAL BEDS
CALL 858-263-4894 – hospitaldirectmedical@gmail.com

Hill Rom CareAssist Hospital Bed for sale

Refurbished "med-surg" full electric hospital bed for
sale with scales and pendant.

Hospital Direct Medical Equipment
"New, Used and Surplus Medical and Hospital Equipment"
4901 Morena Blvd. #600
San Diego Ca., 92117
9AM to 5PM Mon-Fri
10AM to 2PM Saturday
Phone:  (858) 263-4894
USA Email: hospitaldirectmedical@gmail.com

Mexico / Latin America
Gloria Flores (858) 263-4894
Cell 858-922-6862

Se Habla Español
Mexico / Latin America Email
hospitaldirectmedical@gmail.com
Se habla Español Gloria Flores

Refurbished Hill-Rom and Stryker hospital beds for sale