Hill Rom P1900 TotalCare Sport "Connect 2" Hospital Bed Model
with Low Air Loss Mattress, Auto Patient Turning and Percussion / Vibration
TotalCare® Sport "Connect bed" is part of an evolution of the P1900 TotalCare bed model.
With over 80 million patient days, the TotalCare® bed is the most proven critical care bed
you can own. With features designed by caregivers for caregivers, the TotalCare® Connect bed is exceptionally easy to use and designed for patients that need turning assistance, assisted
patient transition and air mattress system to treat and prevent bed sores, wounds and
skin breakdown.

One of the best hospital made in the USA includes:
1. Low air loss mattress
2. Auto patient turning mattress
3. Percussion – vibration therapy to break up lung congestion
4. chair position.
The newest bed version in the used refurbished hospital bed market.
Hill-Rom P1900 TotalCare Hospital Bed System User Manual
Hill Rom TotalCare Sport 2 Price:
$8,500.00* refurbished with a 30 day parts warranty
$24,000* reconditioned with a 1 year parts and labor warranty
About the Hill Rom Sport 2 aka "Connect 2" hospital bed mattress system
Hill-Rom is the first to introduce the next generation of low air loss therapy with its Advanced Microclimate™ Technology. See a list of mattress features below including:

• Powered air, weight-based pressure redistribution surface • Prevention and treatment of pulmonary and skin complications associated with immobility • Prevention of pressure ulcers in patients who are at moderate to high risk for skin breakdown • Treatment of pressure ulcers up to Stage III and IV • Therapeutic weight limit: 500 lbs
"Percussion – Vibration" Therapy to Clear the Lungs
The TotalCare® Connect bed provides the easiest and most complete tools to maintain head-of-bed protocol compliance to help prevent Ventilator Associated Pneumonia (VAP). • 30° and 45° Head of Bed (HOB) Alarm • Line-of-Site® Head Angle Indicators • Head of Bed Graphical History. This mattress has a low, medium and high setting and will rotate the patient while
helping to break up upper respiratory congestion.
Pressure Redistribution – Low Air Loss Mattress System  – Mattress Features
Hill-Rom is the first to introduce the next generation of low air loss therapy with its Advanced Microclimate™ Technology. Manage the microclimate of your patient: • Provide airflow right where its needed … close to the patient • Maintain ideal thermal comfort range by lowering skin temperature • Reduce local perspiration • Reduce moisture accumulation • Vented coverlet allows heat and moisture accumulation to exit surface — away from the patient
The TotalCare® bed helps provide safer skin with: Pressure redistribution • Multiple zones • Full-depth air bladders • Weight-optimized air pressures from 70 to 500 lbs Advanced Microclimate™ Technology comfort topper • Air flow at 38L/min directly under the patient • Keeps patient cool, dry and comfortable • Vented to allow heat to escape
Excellence in shear/friction prevention • Wipeable, breathable and comfortable ticking • Shearless Pivot® feature with ShearRelief™ algorithm • FlexAfoot™ adjustable length keeps patients from sliding down in bed.
No Falls® Program— Helping prevent patient falls in the ICU. • New! Advanced 3 Mode Bed Exit System (PPM) with Silence and Suspend Modes. No more forgetting to reset the alarm! • Automatic seat deflate when bed goes into chair egress position, keeping your patient low to the ground.
Hill Rom P1900 TotalCare Sport – "Connect 2" Technical Specifications
Overall bed length (with roller bumpers) Fully extended………………………………………………………93.5″ (237 cm) Fully retracted……………………………………………………….81.5″ (207 cm) Overall bed width Siderails stowed………………………………………………………36.5″ (93 cm) Siderails up………………………………………………………………40″ (102 cm) Overall bed height Low position – sleep deck to the floor ……………………..15″ (38.1 cm) High position – sleep deck to the floor ……………………..34″ (86.4 cm) Low position – top of surface*……………………………………………18-22″ *depending on surface with seat deflate High position – top of surface*…………………………………………….40-45″ *depending on surface IntelliDrive® system unit only Transport and braking system Optional IntelliDrive® power transport………………………………………Yes Caster diameter……………………………………………5″ (12.7 cm) standard with IntelliDrive® power transport……………..6″ (15.2 cm) optional Braking system ………………..Four wheels, rolling and swiveling locked Weight limit Patient weight, all surfaces……………………………………500 lbs (227 kg) Safe working load, including all accessories……………550 lbs (250 kg) Static load capacity……………………………………………..per IEC 601-2-38 Optional scale system Accuracy……………………………………………………….1% of patient weight Weigh in any position (except Trend/Rev Trend) …………………………Yes Scale weight capacity…………………………………………..500 lbs (227 kg) Rated voltages available………..100V, 110V, 120V, 127V, 220-240V AC Power/input………………………………………………………………9.9 A / 5.0 A Frequency………………………………………………………………..60 Hz / 50 Hz Safety listing…………………………………………………….UL60601-1 and CE Patient safety features 30°/45° Head of Bed Alarm……………………………………………………..Yes Bed Exit System ………………………………………………………………………Yes Nurse Call ………………………………………………………………………. Optional Siderail down notifications during Turn Assist…………………………….Yes Siderail down cessation of rotational therapy…………………………….Yes
Hill Rom P1900 Total Care Sport 2 Connect 2 Bed Information Sheet
Hospital Direct Medical Equipment Inc.
"New, Used and Surplus Medical and Hospital Equipment"
4901 Morena Blvd. #600
San Diego Ca., 92117
9AM to 5PM Mon-Fri
10AM to 2PM Saturday
USA Office phone: (858) 263-4894
USA Email: hospitaldirectmedical@gmail.com
Richmond Virginia (540) 327-7376
Mexico / Latin America
Gloria Flores (858) 263-4894
Cell 858-922-6862
Se Habla Español
Mexico / Latin America Email
hospitaldirectmedical@gmail.com
Se habla Español Gloria Flores
Hill Rom TotalCare Sport "Connect 2" Photos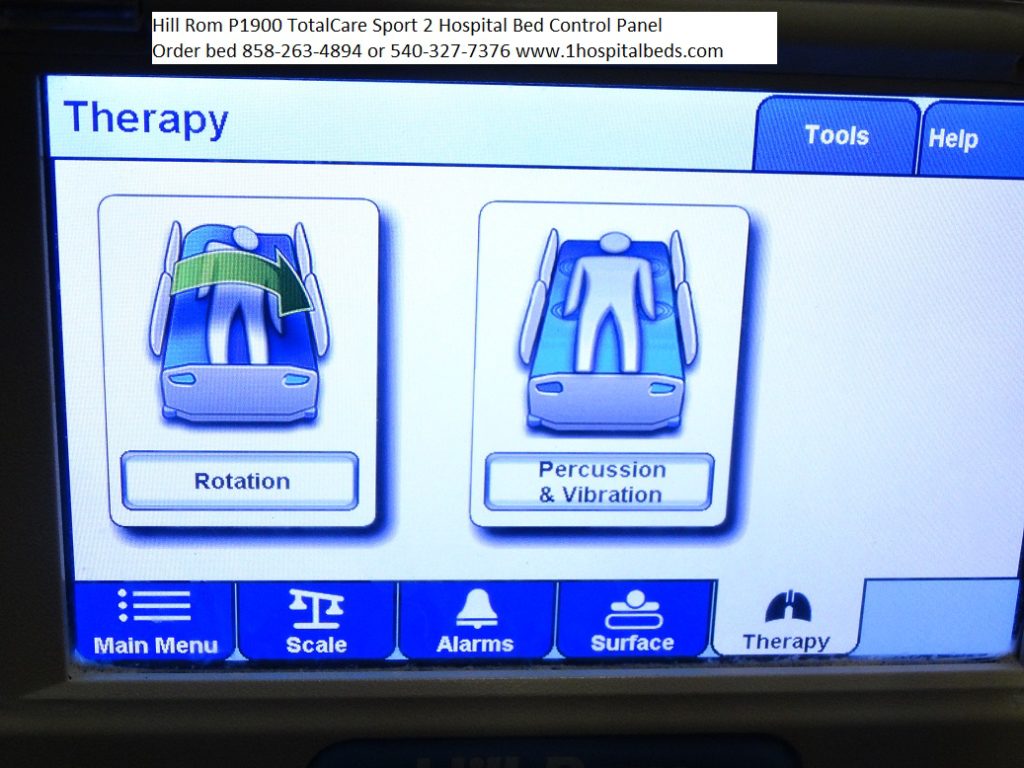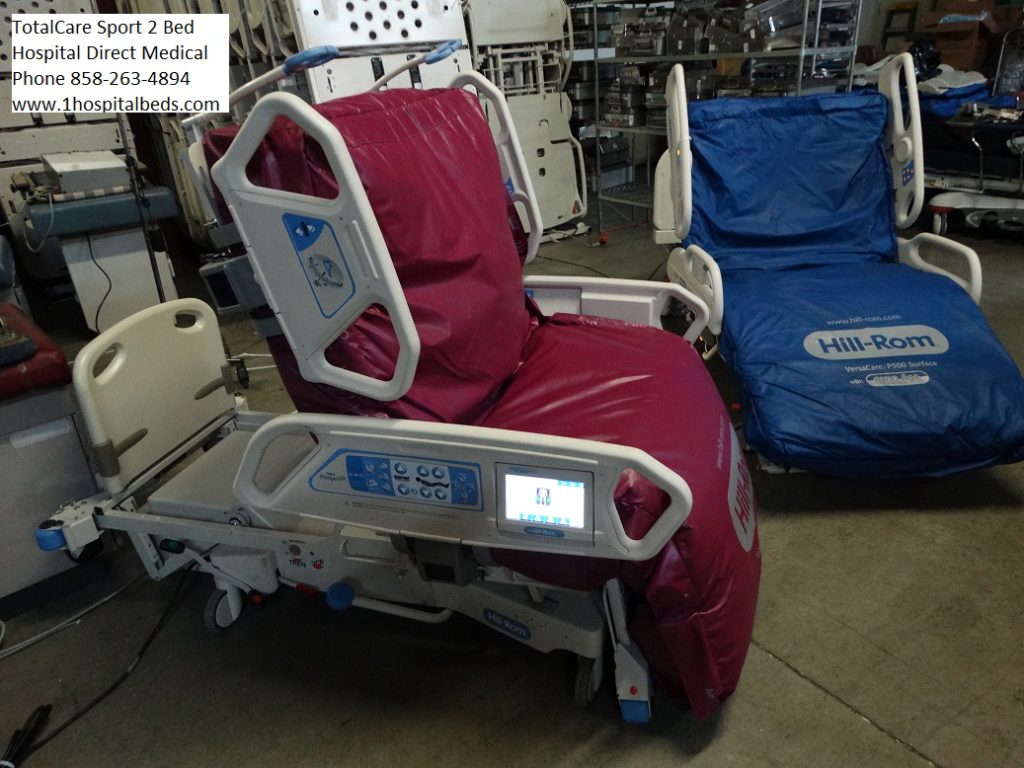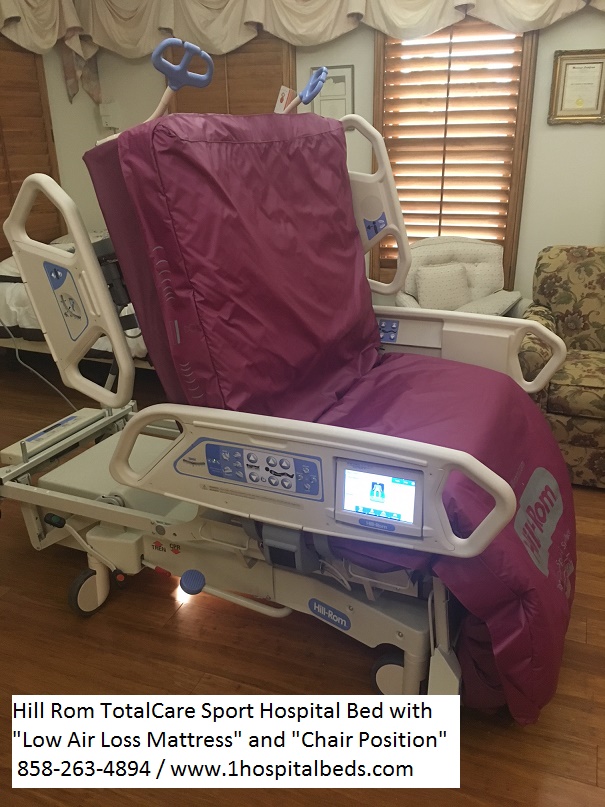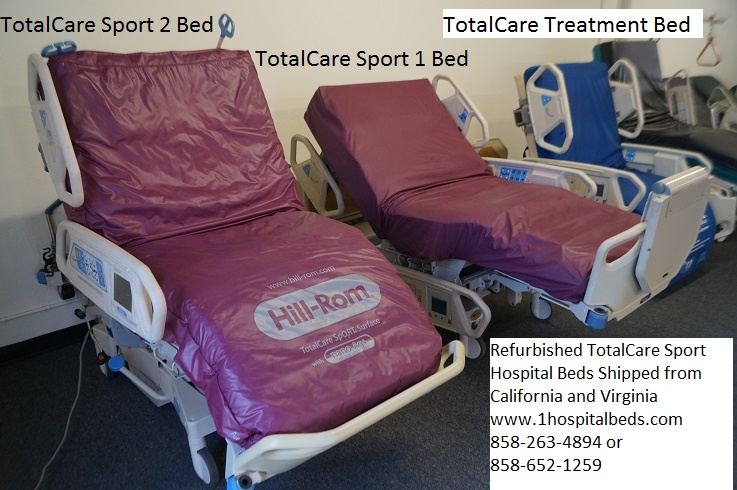 Hill Rom P1900 Total Care Sport 2 Connect 2 Bed Information Sheet
Hospital Direct Medical Equipment Inc.
"New, Used and Surplus Medical and Hospital Equipment"
4901 Morena Blvd. #600
San Diego Ca., 92117
9AM to 5PM Mon-Fri
10AM to 2PM Saturday
USA Office phone: (858) 263-4894
USA Email: hospitaldirectmedical@gmail.com
Richmond Virginia (540) 327-7376