Hospital Bed Models
Here is a look at full electric bed models with foam mattress
and full electric beds with air mattress (bottom).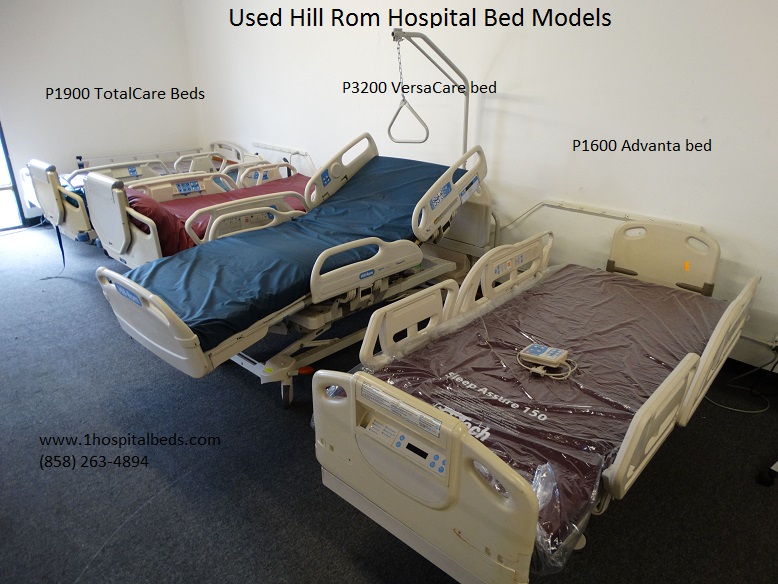 FULL ELECTRIC BED MODELS WITH FOAM MATTRESS
#1 Hill Rom Advance Series Bed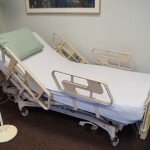 Our number one selling hospital bed – this full electric
bed comes refurbished with patient controls in each
upper rail and a nurses station at the foot of the
bed with master bed controls. This bed is good for
home use, nursing schools, nursing homes and International
hospitals. Bed price-cost – refurbished $900
reconditioned $1,500
More on Advance Series Hospital Bed click here
#2 Hill Rom Advanta P1600 Hospital Bed
This full electric bed is one model newer than the Advance
Series beds and comes with a more rounded head and foot
board and new rail design. This bed is a very good refurbished
bed for hospitals, nursing schools, nursing homes and also
home use. These are also popular beds for International
use since you can fit 60 units in a 40 foot metal container.
This bed also has a "chair position" which will raise the
person more upright while still staying in bed.
Refurbished Hill Rom P1600 hospital beds $1,200 each.
Reconditioned Hill Rom P1600 hospital beds $2,200 each
More on Hill Rom P1600 Advanta bed click here
#3 Hill Rom TotalCare P1900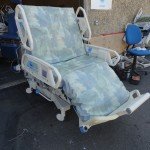 This is an entry level bed that comes with a foam mattress
and sits into a full chair position with the patients
feet actually touching the ground. This bed is ideal
for patients with immobility. This is one of several
TotalCare P1900 bed models with other versions having
air mattress systems. Refurbished Hill Rom TotalCare P1900
bed with foam mattress price = $1,800.00.
Hill Rom CareAssist Hospital Bed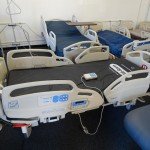 This is one of the newest full electric beds in the
refurbished hospital bed market. The "CareAssist"
bed goes back to the basics with a lighter bed pan
and new modern rail design. If you are looking for
one of the most modern looking hospital beds
this is an excellent choice.
Refurbished CareAssist bed price = $3,500
More on Hill Rom CareAssist hospital bed click here
Stryker Secure 1 Hospital Bed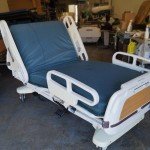 The Stryker Secure 1 hospital bed is a very reliable
and good looking full electric hospital bed that
is used in homes, nursing schools and International
hospitals. The bed sells for $900 refurbished from
our San Diego medical warehouse. Check inventory before
making a purchase since these beds are hard to find
and keep in stock. More on Stryker Secure 1 hospital bed click here
Stryker Secure 2 Hospital Bed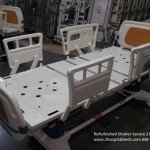 This is the most popular refurbished "Med-Surg" hospital
bed that goes back into hospitals. There are two versions
of this bed – a "round rail" and a "square rail" with the
square rail being the newer version. These beds normally
come with scales, Chaperone exits and bed exit alarm system.
Refurbished Secure 2 round rail beds $1,600 each
Refurbished Secure 2 square rail beds $2,200 each
Reconditioned with 1 year warranty $2,850 each
More on Stryker Secure 2 hospital bed click here
Invacare Model 5410 Full Electric Hospital Bed Sold NEW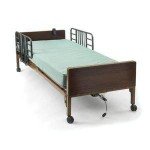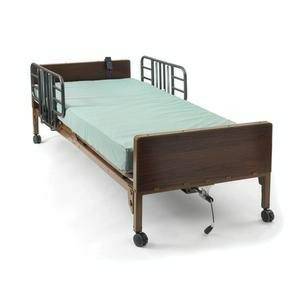 Delivered with NEW Foam Mattress $1,400. This hospital
bed is a good choice for patients on a second floor or
hard to reach area or patients wanting a brand new
bed with small shipping costs. We can ship this bed
anywhere in the USA included the price quoted above.
The shipping cost is a huge savings from other
refurbished hospital bed models.
AIR MATTRESS HOSPITAL BED MODELS
These hospital beds come with an air mattress and
built in air mattress pump and equipment.
Hill Rom P1900 TotalCare "Treatment" Bed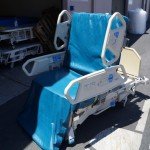 This is our entry level air mattress hospital bed.
This bed comes with an air mattress and is designed
to treat bed sores, pressure ulcers and skin breakdown.
More on Hill Rom TotalCare P1900 Treatment Bed click here
Hill Rom P1900 TotalCare "Sport" Hospital Bed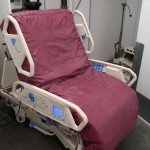 This is one of the best air mattress "ICU" hospital beds made.
The Hill Rom P1900 TotalCare "Sport" bed provides an air
mattress system with "auto patient turning" mattress feature
and a "percussion – vibration" feature that breaks up
flem in the upper respiratory system. This bed has 16
connection ports to the mattress and efficiently can
pump air and provide treatment for bed sores and
skin breakdown. This is the #1 "ICU" bed we sell.
More on Hill Rom P1900 TotalCare hospital bed click here
A look at some of the most popular hospital bed
models we have in stock. When buying a hospital
bed you need to consider what the needs of the
patient are. All the beds we carry are full
electric beds so the main consideration is:
1. Does the patient need an air mattress –
is there a concern for bed sores?
2. Is the patient smaller in stature and
need a special "low" bed that sits lower to
floor?
3. Is the person larger in stature and need
a bed with extended length or width (bariatric)
Here is a look at our full electric bed models and
also our air mattress beds, bariatric beds and
all other specialty beds and models.
Current Hospital Bed Inventory – Hospital Beds For Sale
Hospital Bed Prices – Hospital Bed Models click here –
Refurbished Hospital Beds for Sale in San Diego
Hill Rom 840 Centra Bed = $750*
Hill Rom Century P1400 Bed = $850
Stryker Secure 1 Bed = $900
Hill Rom Advance Bed = $900*
Stryker "High Low" Bed = $850
Hill Rom Advanta P1600 Bed = $1,150
Stryker Secure 2 Bed round rail = $1,400
Hill Rom CareAssist ES hospital bed = $3,500
Hill Rom P1900 Treatment Bed with air flow mattress $3,500
Hill Rom TotalCare P1900 Sport Bed with low air loss mattress /
and auto patient rotation $5,995.00*
HOSPITAL BEDS ON SALE – Stryker Epic 2 Round Rail Beds – Full electric bed
fully refurbished with scales ONLY $1,350 each!
SPECIAL Hospital BED DEALS – While supplies last!
Hill Rom Advance 1000 Series Beds – PHOTO ABOVE – NEW CONDITION –
Surplus beds never used in near new condition ONLY $3995 each –
* while supplies last

We carry over 15 hospital bed models including new, used, refurbished and
reconditioned patient ready hospital and medical beds from Hill Rom and Stryker.
We sell hospital beds wholesale to brokers and the general public from
our San Diego durable medical equipment warehouse and Los Angeles
refurbishing warehouse. See full electric adjustable hospital bed models,
bed prices, features and dimensions below.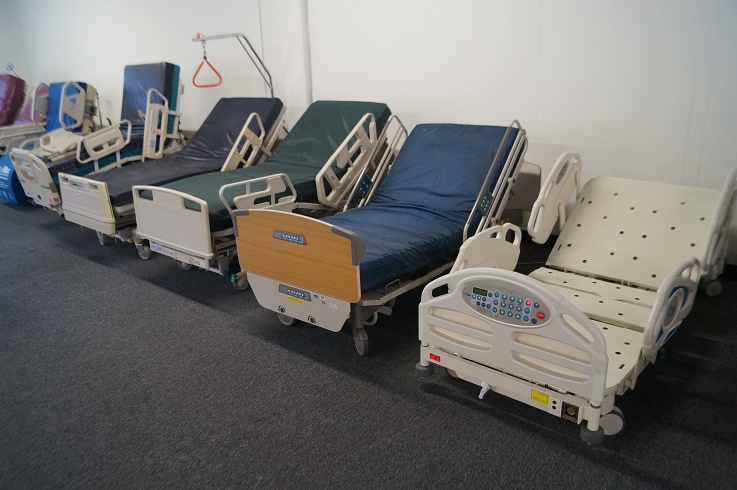 * We carry a wide variety of "med-surg" and "ICU" hospital beds that
can be fully reconditioned and upgraded with scales, bed exit alarms
and air flow mattress systems. Contact us for pricing and beds
that will fit your medical center or hospital needs at
858-731-7278 or by email at hospitaldirectmedical@gmail.com