Invacare Model 5410 IVC Full Electric Hospital Bed
With Brand New with Foam Mattress $1,295.00*
* Includes delivery – requires assembly
* 2 year warranty included
* + .08% sales tax for CA residents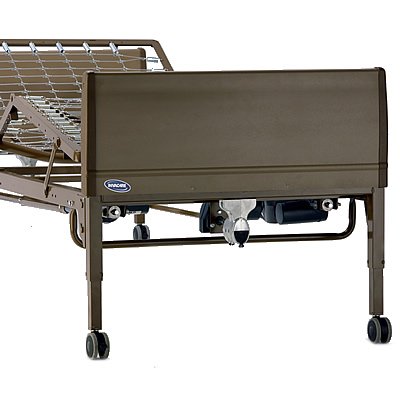 Invacare Hospital Bed model 5410 IVC 400 A –
Delivered with foam mattress for $1,295.00 –
Order bed call 858-731-7278 or 858-263-4894
Our most popular NEW full electric hospital bed model!
The Invacare 5410 electric hospital bed is an excellent
choice for people needing a brand new bed that can
be placed anywhere including 2nd and 3rd floors
and very small rooms.

The Invacare Full-Electric Bed offers the greatest convenience for the patient and caregiver. The easy-to-use pendant control provides motorized positioning of the upper body and knees, and also adjusts bed frame height for efficient use of accessories and for safe and easy transfer.
Invacare beds, mattresses and rails, excluding therapeutic support surfaces and bariatric beds, when used as a system and sold new after August 1, 2007, meet the voluntary FDA Guidelines for bed rail entrapment.
View the Bed Rail Entrapment Risk Notification Guide
High impact bed end panels are more durable, impact and scratch resistant; washable for easy cleaning. Universal bed ends can be used as either the headboard or footboard on the bed
Rubber, non-marring, locking casters reduce slip and prevent marking on floor
Quiet motor operation and fast cycle time on lowering height of bed allows for efficient bed set-up. Motor system with waterproof enclosures is rated IP66. Color-coded connections on junction box for easier maintenance
Ergonomic hand pendant comes with durable strain relief and heavy-duty cord. Waterproof casing for easy cleaning. Conveniently attaches to bed sheet with clip or rail with hand pendant cradle (sold separately)
Hand pendant cradle available for convenient storage of hand pendant model # 26975. Interchangeability simplifies storage, reduces inventory complexity
Dimensions:
88″ (L) x 15″-23″ (H) x 36″ (W)
Sleep Surface:
80″ (L) x 36″ (W)
Product Weight Capacity:
450 lb.
Patient Weight Capacity: 350 lb.
Code Approval:
Regulatory Standard: UL962, CSA Certified
Warranty:
5 Years Welds
2 Years Mechanical/Electrical
Order / Purchase this Invacare full electric hospital bed –
Shipping time – 3-5 working days
Call us at 858-731-7278 to order or 858-263-4894
or email questions at hospitaldirectmedical@gmail.com
Invacare Model 5410 IVC Full Electric Hospital Bed
With Brand New with Foam Mattress $1,295.00*
* Includes delivery – requires assembly
* 2 year warranty included
* + .08% sales tax for CA residents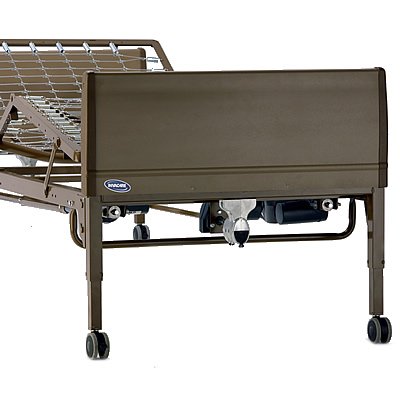 Hospital Direct Medical Equipment Inc.
Hospital Direct Medical Equipment
"New, Used and Surplus Medical and Hospital Equipment"
4901 Morena Blvd. #506
San Diego Ca., 92117
9AM to 5PM Mon-Fri
10AM to 2PM Saturday
USA Office phone: (858) 731-7278
Office #2 (858) 263-4894
USA Email: hospitaldirectmedical@gmail.com
Mexico / Latin America
Gloria Flores (858) 263-4894
Cell 858-922-6862