Bed Sore Skin Ulcer and Wound Management Hospital Bed Models
and Air Mattress Support Systems for Intensive Care Patients
Patients that spend long amounts of time in bed and also patients
unable to turn themselves are subject to getting skin ulcers also
referred to as "bed sores" and wounds.

Hospital Bed Models Made to Treat and Prevent Bed Sores and Skin Ulcers
As defined by The Mayo Clinic a bedsore is:
Bedsores — also called pressure sores or pressure ulcers — are injuries to
skin and underlying tissue resulting from prolonged pressure on the skin.
Bedsores most often develop on skin that covers bony areas of the body,
such as the heels, ankles, hips and tailbone.
Bedsores are classified as stage 1, 2, 3 and 4 with stage 4 being
the most serious. Stage 1 and 2 can normally be healed within
weeks or months with the stage 3 and 4 wounds being more
severe and requiring more intensive medical care and treatment.
Bedsores are also referred to as "wounds" and when serious go into
a "wound care management" category, which can possibly lead to
surgery to remove damaged tissue. Other treatments include
irrigation of the wound, low frequency mist ultrasound, or
specialized dressing. For all treatment related options please
consult a physician for more information.
Bedsores are often caused by immobile patients sitting in one position
for extended amounts of time and re-adjusting the body position is
very important for healing. This can be done with the assistance of a
caregiver, a trapeze bar and also with the help of an auto turning mattress
system. In addition to being moved and turned often.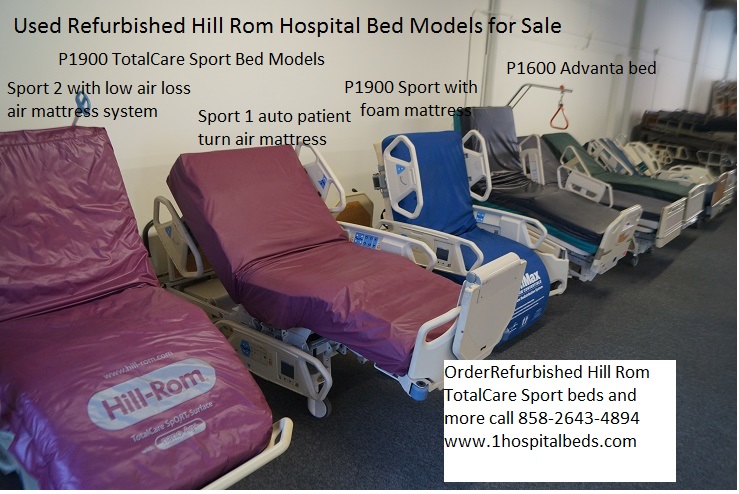 Air mattress hospital beds for treating bedsores, skin ulcers and wounds.

Hill Rom P1900 TotalCare "Sport 2" aka "Connect 2" Hospital Bed Model
"One of the best hospital beds made in the USA to treat and prevent bed sores"
One of the things used to treat and heal bedsores is a specialized
treatment surface. The Hill Rom P1900 TotalCare Sport bed is designed
to provide this type of treatment surface and with an auto patient turning
air mattress system it can also help relieve the caregiver from manually
having to turn the patient. this setting can turn from anywhere from a
10 degree to 40 degree turn and can turn every 15 minutes, or a time setting
for the specific patient needs.
The TotalCare Sport 2 bed also has an upgraded featured air mattress
feature referred to as "low air loss" which provides a layer of air conditioned
air that sits over the top of the mattress and is used to reduce sweating and
moisture.  In  addition to providing a therapy air mattress the
TotalCare Sport also sits into a full chair position and makes patient
transfers into a wheel chair easier.
These types of hospital beds and air mattress systems are ideal
because the mattress has air bladders that inflate and deflate
when the bed is moved into different positions and provide
more versatility than what is available with a "replacement"
air mattress that is not connected to bed movement and
sit on the top of the bed surface.
In addition the TotalCare Sport bed also has
the "auto patient turning" feature which provides a huge
relief to caregivers and family members who may be
responsible for turning the patient. If you are looking for
a reliable and durable hospital bed that can perform these
functions call "Hospital Direct Medical" for a list of hospital
bed mattress options and solutions. We sell the P1900 TotalCare
Sport 1 and Sport 2 versions fully refurbished with in home
delivery options available. You can call us at 858-263-4894
or email us at hospitaldirectmedical@gmail.com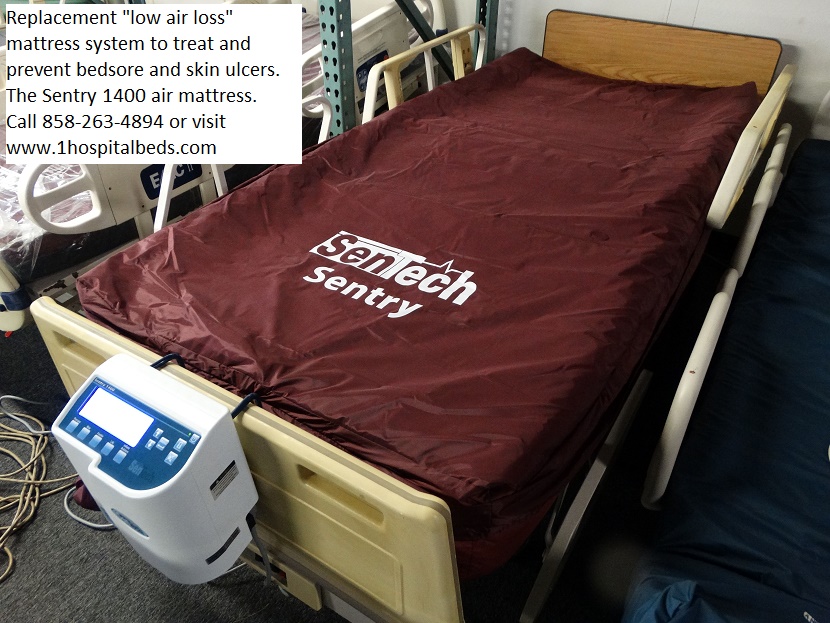 If you are looking for a therapy or treatment mattress system
that is a "replacement air mattress" The Sentry 1400 is one
of the best mattresses sold in the USA. With a special micro fiber
the mattress designed to pull moisture away from the wound area.
If you have a friend or loved one that is dealing with a stage 1,2,3
or 4 stage bedsore – wound please consult a doctor immediately
and for more information on how to treat bedsores refer to
The Mayo Clinic webpage at
http://www.mayoclinic.org/diseases-conditions/bedsores/basics/treatment/con-20030848
If you need a therapy mattress system, hopsital bed or replacement
air mattress for bed sore treatment contact Hospital Direct Medical
at 858-263-4894 or email us at hospitaldirectmedical@gmail.com
For more information on the Hill Rom P1900 TotalCare Sport hospital
bed visit the web page link below.
https://www.1hospitalbeds.com/hill-rom-totalcare-sport-bed/
Call or email us at 858-263-4894 or email us at
hospitaldirectmedicalgmail.com
Hospital Direct Medical Equipment Inc. is a "DMC" or durable medical
equipment provider and ships medical equipment including hospital beds
and replacement air mattress systems all over the world including the USA
and Canada. Visit our website at www.1hospitalbeds.com for more hospital
bed and mattress model information and resources.
Questions and Answers on Buying a Hospital Bed below.
https://www.1hospitalbeds.com/2016/12/23/questions-and-answers-on-buying-a-hospital-bed/ 
| | |
| --- | --- |
| Was This Article Helpful? | |