Used Hill Rom Electric Hospital Beds for Sale Wholesale / Retail
Including Hill Rom Centra, Hill Rom Advance and Advanta Beds
We are a hospital bed dealer that sells surplus, refurbished and used
patient ready hospital beds to medical clinics, hospitals and the general
public. We buy and sell hospital beds all over the USA and ship
them by the hundreds all over the world. We have hospital bed
warehouses in San Diego, Los Angeles, Chicago and Virginia for large
purchases of 10 beds or more. We sell beds one at a time from our
San Diego and Los Angeles warehouse locations.
Check out some of the special prices on hospital beds for
October 2014 below.
Special Deals on San Diego Hospital Beds December 2014
Hill Rom Century 837 hospital beds ONLY $650.00 while supplies last!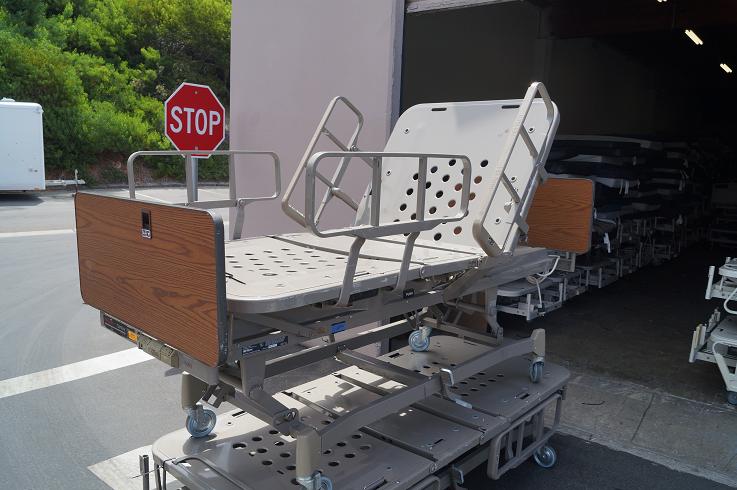 Hill Rom 837 Century Electric Hospital Bed
Stryker Go Plus + 2 Low Sitting Hospital Beds – nursing home / high rail $1,400.00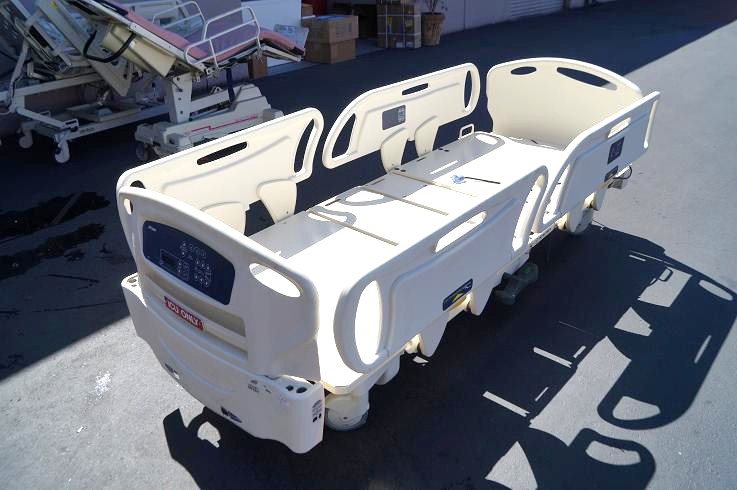 Stryker Go Plus 2 low hospital bed
Hill Rom Advanta P1600 hospital beds ONLY $1,000 each!


HILL ROM & STRYKER HOSPITAL BEDS FOR SALE – SURPLUS – USED – REFURBISHED
SAN DIEGO / LOS ANGELES – shipped anywhere in the world – if you are
looking to buy 10 or more beds email us at hospitaldirectmedical@gmail.com
for pricing.

Hospital Beds for Sale
Electric Hospital Beds for Sale San Diego, Orange County
and Los Angeles – medical beds at wholesale dealer prices.
SAN DIEGO MEDICAL STORE / WAREHOUSE LOCATION
4901 Morena Blvd. #506 San Diego, CA 92117
* Just past Costco in Rose Canyon Business Park
Now in Stock in San Diego – Hill Rom TotalCare Sport  Patient Therapy
Hospital ICU Beds with auto patient rotation module, percussion and
vibration upper respiratory module, low air loss mattress and more
only $12,500 for TotalCare Sport 2 and $7,500 for the TotalCare Sport 1

NEW Hill-Rom® Century Plus P1400 Full Electric Hospital Bed
NOW IN STOCK ONLY $795 EACH While Supplies Last!
Reconditioned and patient ready electric medical beds.

Buy Hospital / Medical Beds call 858-731-7278
or visit our warehouse and test and demo the beds!
More Hill Rom Century bed photos click here
NEW HILL ROM CENTRA 840 Beds now only $650 Each!
Bariatric Hospital Beds in Stock Now Only $1,995.00
Bariatric hospital bed information click here
NEW STRYKER MPS 3000 FULL ELECTRIC BEDS NOW ONLY $750 + tax
Some Slightly scratched units in good working order ONLY $600 + tax!

FULL ELECTRIC BEDS WITH UP AND DOWN AND CPR RELEASE
WITH FREE 90 DAY WARRANTY 858-731-7278
SPECIAL ON ADVANCE SERIES BEDS
NOW ONLY $795 with reconditioned mattress + tax!
Hill Rom Advanta P1600 Beds with Zone Air – Air Flow Mattress
Reconditioned with built in scale ONLY $1,500!

SPECIALS ON HILL ROM ADVANCE SERIES BEDS
Partially Reconditioned (above) $895 Each + tax and mattress
Fully Refurbished (below) $1,500 Each + tax and mattress
Reconditioned fully electric hospital beds with up and down, side rails,
head up and down with 90 day warranties included. We also sell and carry
hospital bed tables, side bed cabinets, patient vital sign monitors, exam
tables, surgical lights and all other types of medical and hospital equipment.
If you are looking for used electric hospital beds for sale you can
find some of the best models and brands on the market here.
ORDER / BUY Used Hill Rom Beds – Call 858-731-7278
or email us at getinfo@san.rr.com for wholesale rate quotes
for orders of 5 or more beds
Check out our current transport stretchers, gurneys and specialty transport medical chairs and x-ray gurneys click Gurneys and Stretchers for Sale
We have Hill Rom P8005 Transport Gurnys, Stryker Stretchers and
Hausted stretchers and gurneys for sale. In stock now Stryker
Renessaince gurneys model # 1731 starting at $850 with mattress
pad.
We buy and sell hospital beds, gurneys and stretchers – send
pictures of what you have for sale to: hospitaldirectmedical@gmail.com
We carry many of the best commercial hospital beds from Hill
Rom including the Hill Rom 840 Centra Bed, the Hill Rom
Advance 1000 Series beds and the new Hill Rom Advanta
P-1600 beds for sale.
Individual Hospital Bed Prices –
Contact us for wholesale orders
Hill Rom 837 Century bed reconditioned with mattress = $650.00 + tax SPECIAL OFFER
Hill Rom 1000 Advance Series beds = $850.00 + tax

Refurbished Hill Rom Advanta hospital beds
Model P1600 – our best selling hospital bed!

$1,200.00 + tax
* * includes reconditioned mattress –
– new mattress = $250 – contact us for orders of
10 beds or more.
Hospital Beds Reconditioned and Ready for Use
We specialize and sell used hospital beds to hospitals, clinics,
nursing homes, senior care centers and residential home use clients.
Whether you are looking for one bed or hundreds of beds we can
provide a competitive price and superior customer service and reliability.
Hill Rom 837 Century Bed ONLY $650.00 – 100% electric bed, reliable, durable and one of the first popular Hill Rom electric models to come onto the market. These are perfect beds for residential use and nursing homes. We can deliver beds for an additional fee.
Hill Rom Advance Series Beds including:
Hill Rom 1000, 1125, 1135 and 2000 model beds
* Hill Rom Advance 2000 beds have air flow capacity and
air flow mattress upgrade available
Hill Rom Advanta Beds – P1600 Model $2,495.00
Includes brand new mattress – Top of the line in hospital beds
The Hill Rom Advanta beds including P1600 models and some
of the newer beds being pulled from hosptals. These beds are
the most recent Hill Rom hospital beds we carry and they are
often used in hospitals and clinics opening around the world.
We know hospital beds and are one of the leading hospital bed wholesale dealers selling commercial grade used beds to clinics, hospitals and nursing care centers in San Diego and Southern California. We can ship and deliver beds anywhere in the world and provide a 6 month warranty on all beds shipped in the USA.
Hospital Direct Medical Equipment Inc.

Hospital Direct Medical Equipment
"New, Used and Surplus Medical and Hospital Equipment"
4901 Morena Blvd. #506
San Diego Ca., 92117
9AM to 5PM Mon-Fri
10AM to 2PM Saturday
USA Office phone: (858) 731-7278
USA Email: getinfo@san.rr.com
San Diego Medical Equipment Warehouse 
4901 Morena Blvd #506
San Diego Ca., 92117
9AM to 5PM Monday thru Friday
Saturdays 10AM to 2PM – call for apointnment
Los Angeles bed refurbishing factory Warehouse
for shipping international orders
BUY OVERBED Side bed TABLES / HOSPITAL ROOM FURNITURE
Click here for hospital room over bed tables and other bedside furniture
Hospital Beds / Medical Beds Delivered to Your Door!
We can deliver used electric hospital beds to San Diego County,
Orange County, Los Angeles County and Riverside County
California. Our beds are delivered by US Marines from
Camp Pendleton and 100% of delivery proceeds go to
these active military personel.
Beds delivered on Saturday's, Sunday's and weekday evenings.
We can ship hospital beds anywhere in the world including Latin America,
Mexico, Asia and Africa. Large orders are shipped via metal containers
via Long Beach port of Los Angeles.
New and used medical equipment dealer providing high
qulaity, durable medical and hospital equipment to
clients around the world. Visit our other website
for current used and new medical inventory.
"I just wanted to thank you again on behalf of Catholic Charities
Refugee Services for your assistance and donating the hospital bed. The family
was really excited and really appreciative of the bed. Happy Holidays!"
Sincerely,
Ariana R.
Wholesale bed dealer, hospital direct medical broker.
We can pack and ship beds anywhere in the world.
With our Los Angeles warehouse location we can recondition beds
including:
– Fixing and reconditioning brakes
– Fixing and reconditioning clutches
– Repainting beds
– Fix and replace bad wheels
– Sterlize and clean beds
– Test and fix beds to bed in good working condition
We can also completely recondition beds with all new wheels,
stickers and more. Email us at getinfo@san.rr.com for more information.
How Many Hospital Beds Fit in a 20 Foot Metal Shipping Container?
30 hospital beds that can be stacked will fit into a 20 foot metal container
How Many Hospital Beds Fit in a 40 Foot Metal Container?
60 stackable hospital beds will fit into a 40 foot metal container
What types of hospital beds do not stack upright?
Some ICU beds are not stackable including older Hill Rom
models, gurneys and stretchers and not stackable, some
birthing beds and other specialty beds are not stackable
and require more space in a container shipment.
Beds being shipped to South America
We can ship beds anywhere in the world!
We can load containers via "Live Load" and save you on shipping.
When shipping hospital beds via container you can either do a
"drop and pick up" or  a "live load". We are set up to do "live load"
container and semi truck shipments to ensure you get the best
possible shipping rates for beds going to international destinations.
Live load container packed and ready for shipment to El Salvador.
Need beds fully reconditioned?
We have Hill Rom Advance beds starting at $1,350 fully
reconditoned will all new paint, wheels, brakes, stickers,
plastic, couplings and clutches.
Here are Hill Rom Advanta beds fully reconditioned
for $2,395.00 each. (above)
Hill Rom Overbed tables, bedside tables,  Hill Rom Centra beds, Century beds
Hill Rom Advance Series beds, Advanta beds and more wholesale pricing
San Diego / Los Angeles California USA.
ORDER HOSPITAL BEDS / BUY HOSPITAL BEDS
USED AND RECONDITIONED CALL 858-731-7278
or email us at getinfo@san.rr.com
SAN DIEGO, OCEANSIDE, LOS ANGELES
ORANGE COUNTY, RIVERSIDE COUNTY
WE SHIP ANYWHERE in California, USA
and the World!

1 bed or 100 we can sell durable high quality
fully electric hospital beds with full bed controls
on rails for up and down, head up and down and
foot up and down.
Hospital Direct Medical Equipment
"Quality Used and Refurbished Medical Equipment"
NEW SAN DIEGO WAREHOUSE LOCATION
4901 Morena Blvd. # 506 San Diego Ca., 92117
* Just past Costco in Rose Canyon Business Park
* NOW OPEN IN HUNTINGTON BEACH Right Off the 405
AND BEACH BLVD. AT 7531 McFadden Avenue
Huntington Beach, CA 92647 MAP
Mexico / Latin America
Gloria Flores (858) 922-6862
Se Habla Español
Mexico / Latin America Email
g1medinfo@gmail.com
Se Habla Español Gloria Flores
San Diego Medical Warehouse Location:
4901 Morena Blvd #506
San Diego Ca., 92117
Used hospital beds for sale, Hill Rom beds including Hill
Rom Century 850, Hill Rom 837 Century, Hill Rom Advance
beds, Hill Rom Advanta beds and more shipped anywhere
in the world!
Call for our new Los Angeles location 858-731-7278
or email us at getinfo@san.rr.com for more information
on our Hill Rom hospital beds, overbed / side bed tables, bedside
tables and other medical equipment for sale.
FULL ELECTRIC HOSPITAL BEDS FOR SALE / Adjustable hospital beds made by Hill Rom, Stryker, CamTech, KCI and other commercial brand hospital beds made for commercial use and used in hospitals and medical centers around the USA and the world including hopsital, nursing schools, nursing homes, senior care and residential home use medical beds, stretchers, gurneys, side beds tables, cabinets and refurbished durable medical equipment.