Hill Rom P1900 TotalCare Bed with Foam Mattress
Created as a hospital bed especially made for acute care patient needs
and patient transition the "Hill-Rom" P1900 TotalCare hospital bed" is one
of the only beds that sits into a full chair position maximizing patient
comfort and assisting caregivers. The Hill Rom P1900 hospital bed comes
with foam and air mattress systems. The basic model featured on this
page includes the P1900 TotalCare bed frame with a foam mattress option.
Hill-Rom P1900 TotalCare Hospital bed Models and Options Below.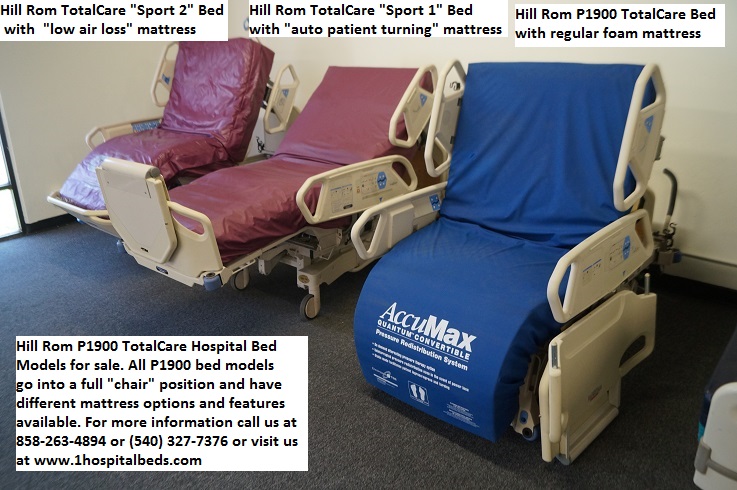 Hill Rom P1900 TotalCare Hospital Bed Price with Foam Mattress
Hill Rom P1900 TotalCare hospital bed frame with foam mattress refurbished $1,995
Hilll Rom P1900 TotalCare hospital bed with new mattress and 1 year warranty $3,795
Order Hill Rom P1900 TotalCare hospital bed call us at (858) 263-4894 in California
or at (540) 327-7376 in Virginia. We can ship hospital beds anywhere in the USA and
the world. For shipping information call or email us for more information and delivery options.
Useful P1900 TotalCare Hospital Bed Links
Hill Rom P1900 TotalCare Treatment hospital bed with air mattress 
system included click here
Hill Rom P1900 Total Care Sport 1, 2 and Connect 2 with 'auto patient turning mattress"
and "percussion-vibration" system click here.
For prices and information on P1900 Totalcare bed model with foam mattress click here.

Hospital Direct Medical Equipment
"New, Used and Surplus Medical and Hospital Equipment"
4901 Morena Blvd. #600
San Diego Ca., 92117
9AM to 5PM Mon-Fri
10AM to 2PM Saturday
USA Office phone: (858) 263-4894
USA Email: hospitaldirectmedical@gmail.com
Mexico / Latin America
Gloria Flores (858) 263-4894
Cell 858-922-6862
Se Habla Español
Mexico / Latin America Email
hospitaldirectmedical@gmail.com
Se habla Español Gloria Flores
Hill Rom P1900 TotalCare Bed Frame Technical Specifications
Overall length
FlexAfoot® fully retracted
81.5" (207.0 cm)
FlexAfoot® fully extended
93.0" (236.2 cm)
Overall width
Side rails stowed
38.0″ (96.5 cm)
Side rails up
40″ (102 cm)
Bed height without mattress (5″ CASTERS)
Height from floor to top of deck Minimum
17.5" (44.5 cm)
Maximum
36.5" (92.7 cm)

Minimum under-bed clearance:
3.25" (82.6 mm) for 5" diameter casters
4.75" (121.0 mm) for 6" diameter casters
1.75" (44.5 mm) (Under the IntelliDriveTM System unit only)
Trendelenburg/Reverse Trendelenburg
15°/15°
Max Head elevation
75°
Safe working load
550 lbs (249 kg)
Max Patient weight for SpO2RT Mattress
500 lbs (227 kg)