Hill Rom P8000 Transtar Procedural Gurney Stretcher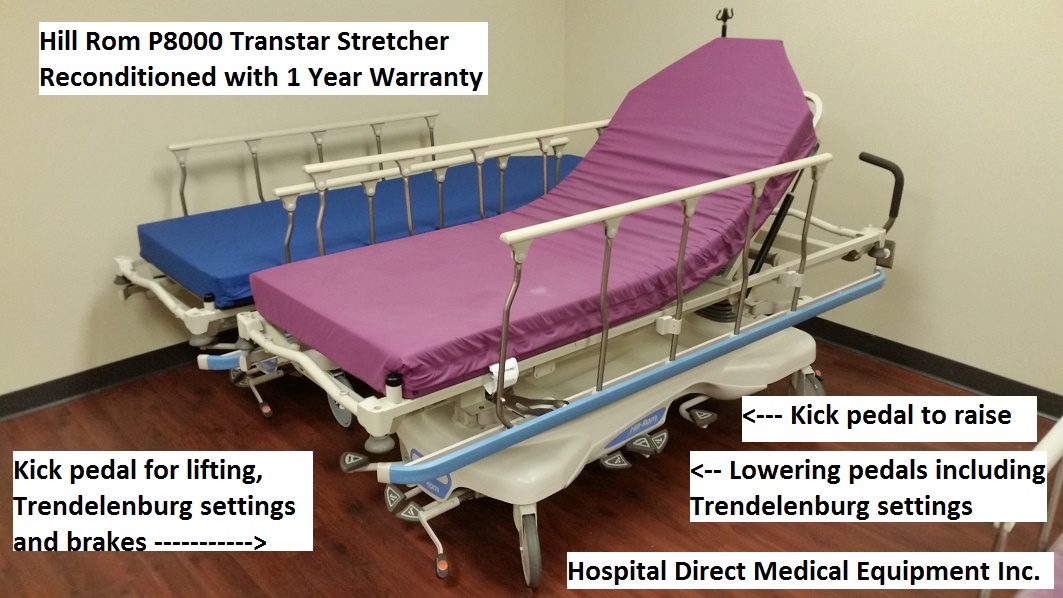 The Hill Rom P8000 Transtar stretcher is the premier stretcher model
offered by Hill Rom and is a reliable and durable medical gurney
used in ER – Emergency Rooms, Radiology, OR / Surgery and other
hospital departments. The P8000 Transtar stretcher comes with a 500 pound
or a 700 pound weight capacity and also includes a 5th wheel for tight
turns and smooth operational use.
Hill Rom P8000 Procedural Stretcher Prices / Pricing
Refurbished Patient Ready = $1,200
Reconditioned Patient Ready with 1 year warranty = $2,500
* Cost does not include shipping charges –
* Reconditioned price includes a new mattress pad
* Contact us with questions and shipping quotes at
(858) 263-4894 or (858)-652-1259 or email us at
hospitaldirectmedical@gmail.com
What is the difference between refurbished and reconditioned stretchers?
Refurbished stretchers are professionally tested, cleaned and have any broken parts replaced
These stretchers are patient ready and are able to go back into service. These stretchers
come with a 30 day warranty.
Reconditioned stretchers are disassembled and repainted, all brakes and cables are replaced,
all new stickers are added, new plastic is added when there is noticeable wear and the
entire stretcher is re-assembled. The stretchers that go through this process come with a
1 year warranty and are in new condition.
P8000 Transtar Stretcher specifications:
Hill-Rom's rugged procedural stretcher (P8000) is the ideal choice for Emergency, OR, PACU or ASC settings. This stretcher offers unsurpassed mobility, comfort and quality.
Mobility. Hill-Rom's innovative Steering Plus™ system allows crisp cornering and control. In addition, the system self-adjusts when passing over uneven #oor surfaces, preventing vibrations from reaching the patient, as experienced with larger, fixed-wheel systems.
Comfort. Reduce patient handling risks and enhance patient comfort. The BackSaver Fowler® feature provides the caregiver with easier head section articulation. Patients remaining on stretchers for extended periods of time due to overcrowding are at risk for developing pressure ulcers. Our innovative, five-inch air mattress—AccuMax Quantum™ Stretcher Pad—is the only non-powered, dynamic pressure redistribution stretcher mattress with Controlled Release™ Technology.
Quality. Our reinforced frames are made of heavy-gauge, automotive-grade steel for long-lasting quality. Hill-Rom is committed to helping caregivers manage an increasingly obese population. Focused on patient and caregiver safety, all Hill-Rom stretchers are designed and tested to safely support a weight of 700 lbs.
Hill Rom P8000 Stretcher Gurney Technical Specifications
Overall Width (siderails stored) 26″
Overall Width (siderails up) 32″
Overall Length 83″
Siderail Length 47″
Max Head Elevation 90 degrees
Trend/Reverse Trend ±18 degrees
Caster Size 8″
Maximum Patient Weight 700 lbs
Hill Rom P8000 Transtar Procedural Stretcher
Contact us to order Hill Rom Transtar P8000 stretchers at
(858) 263-4894 / (858) 652-1259 or by email at
hospitaldirectmedical@gmail.com
We can ship stretchers from California, Indiana and Virginia
depending on current inventory and where the order is placed.
HILL-ROM P8000 TRANSTAR PROCEDURAL STRETCHER PHOTOS – PICTURES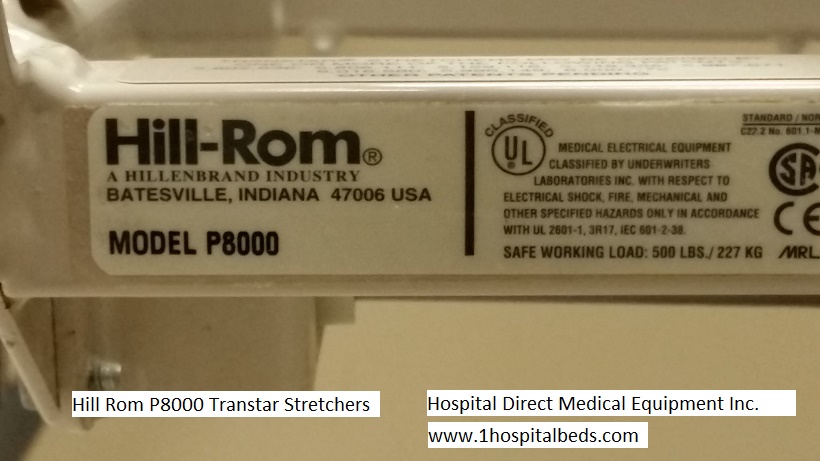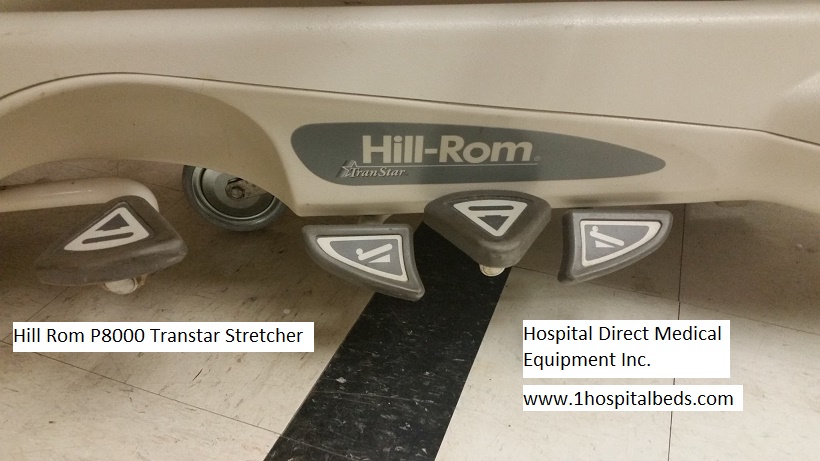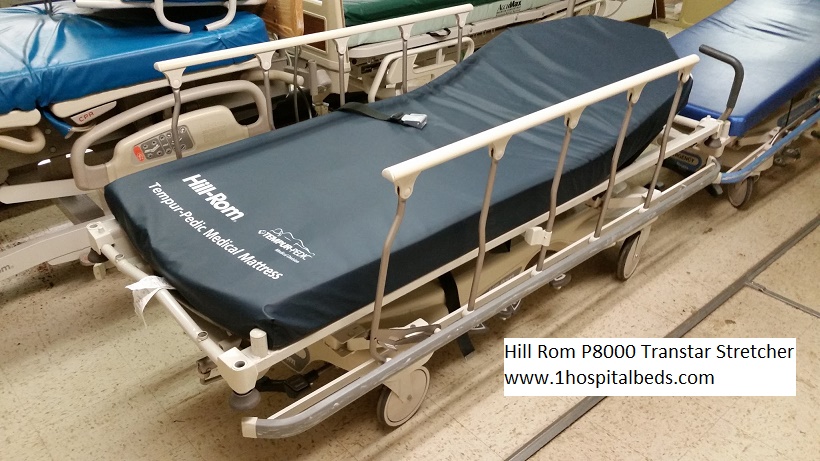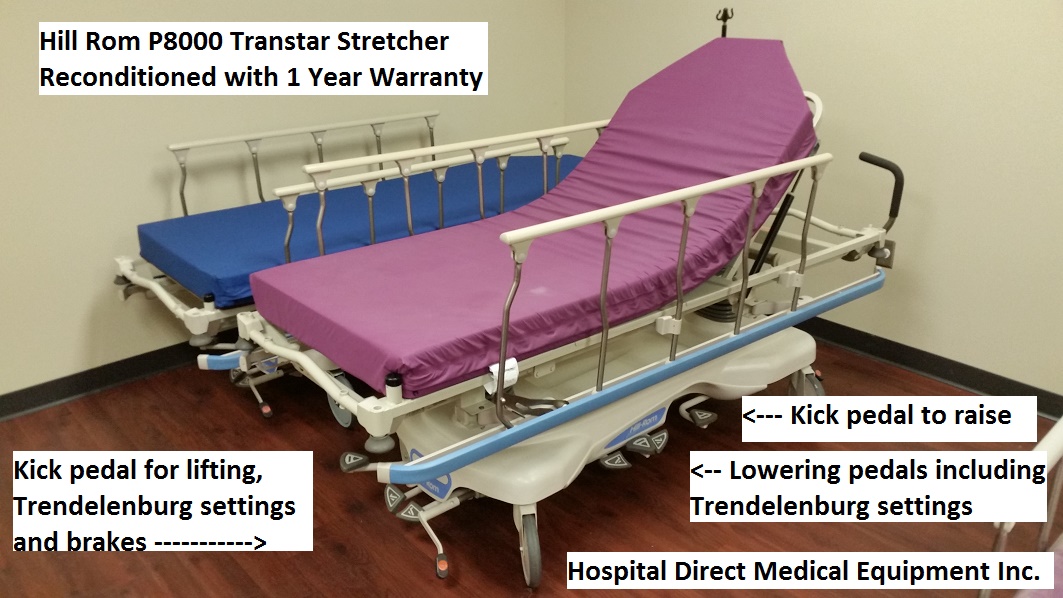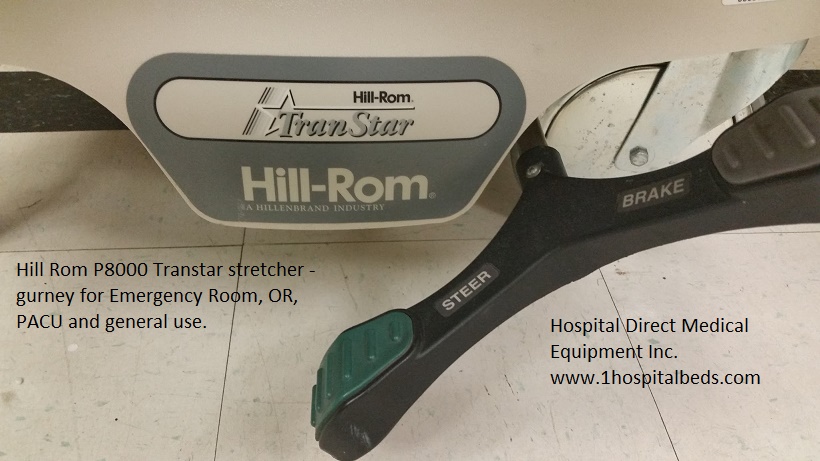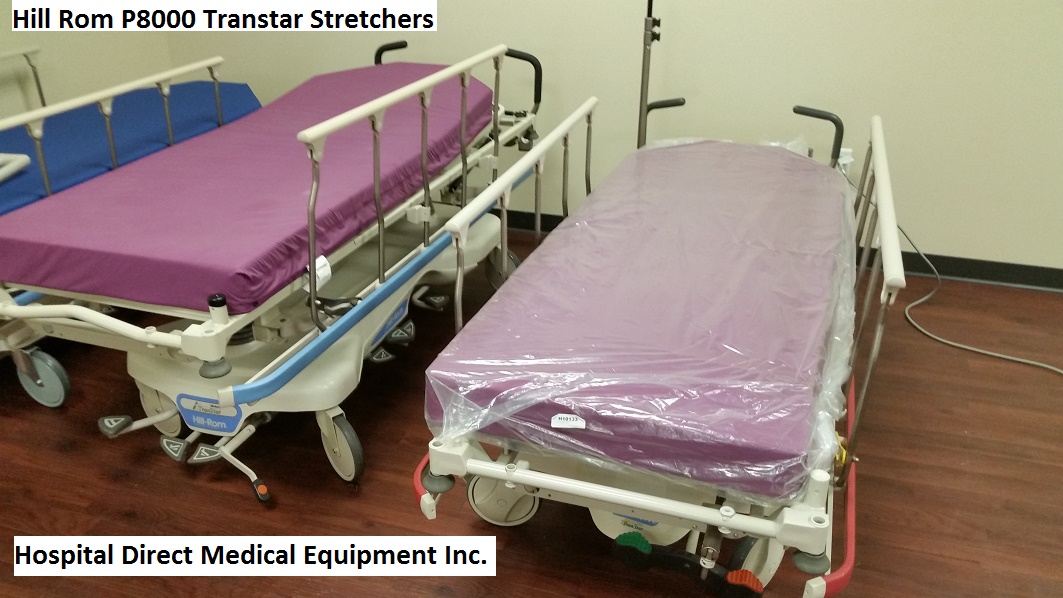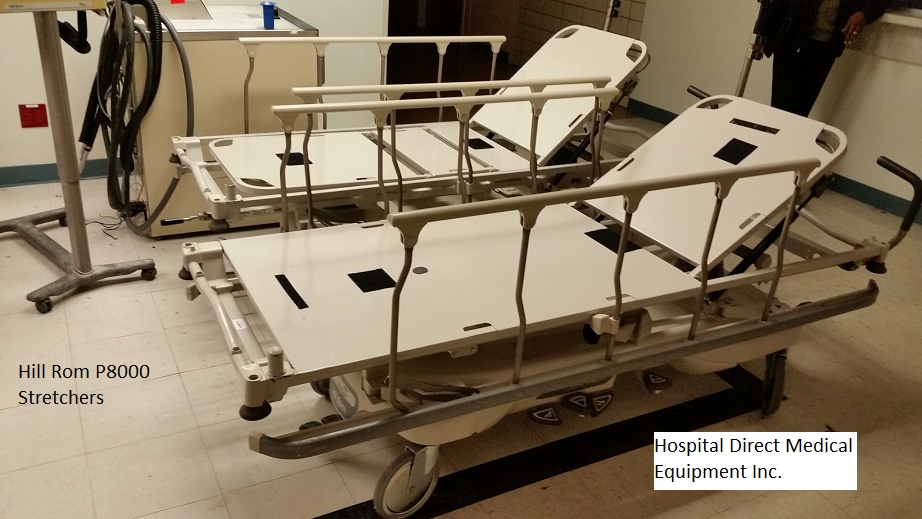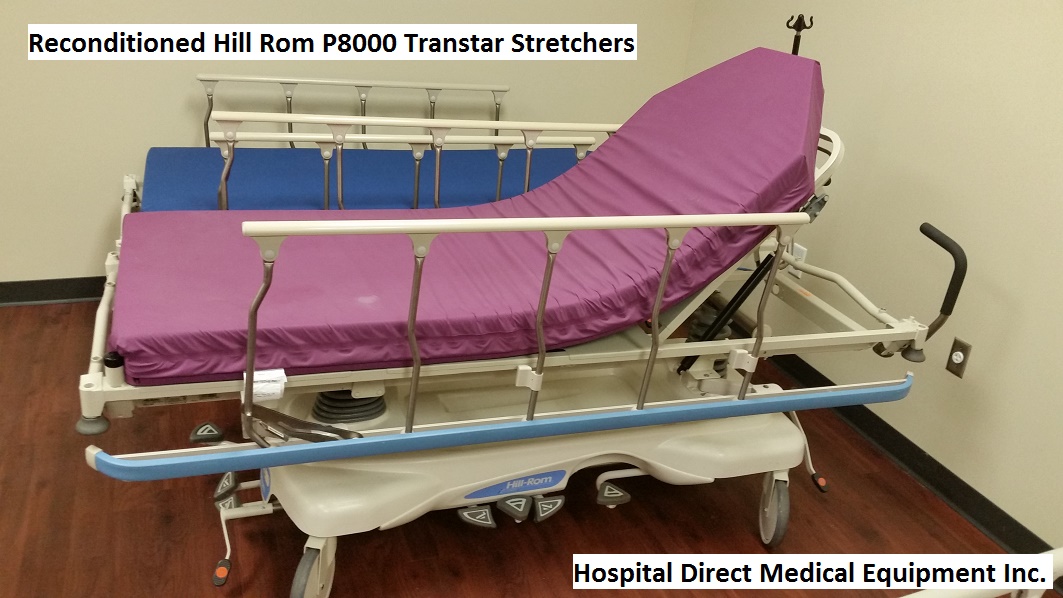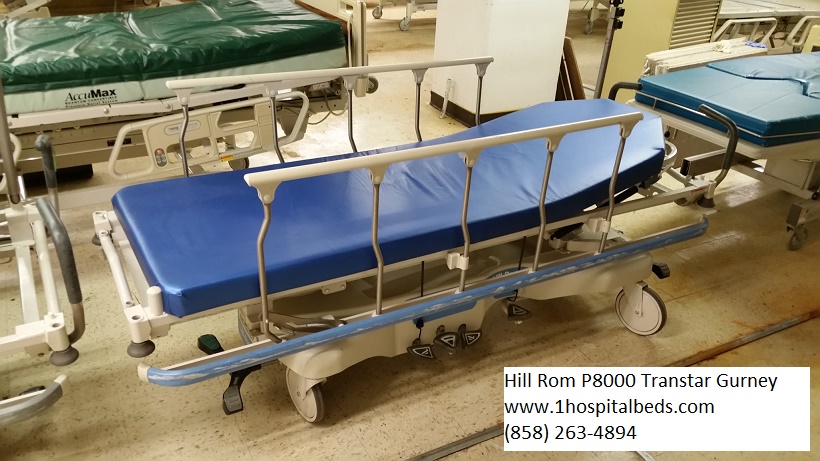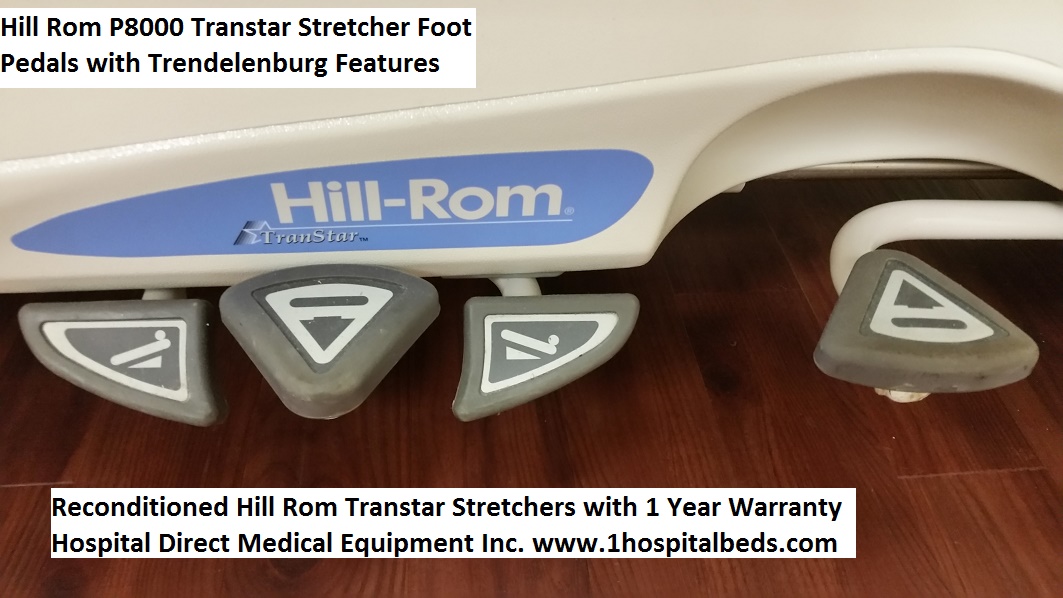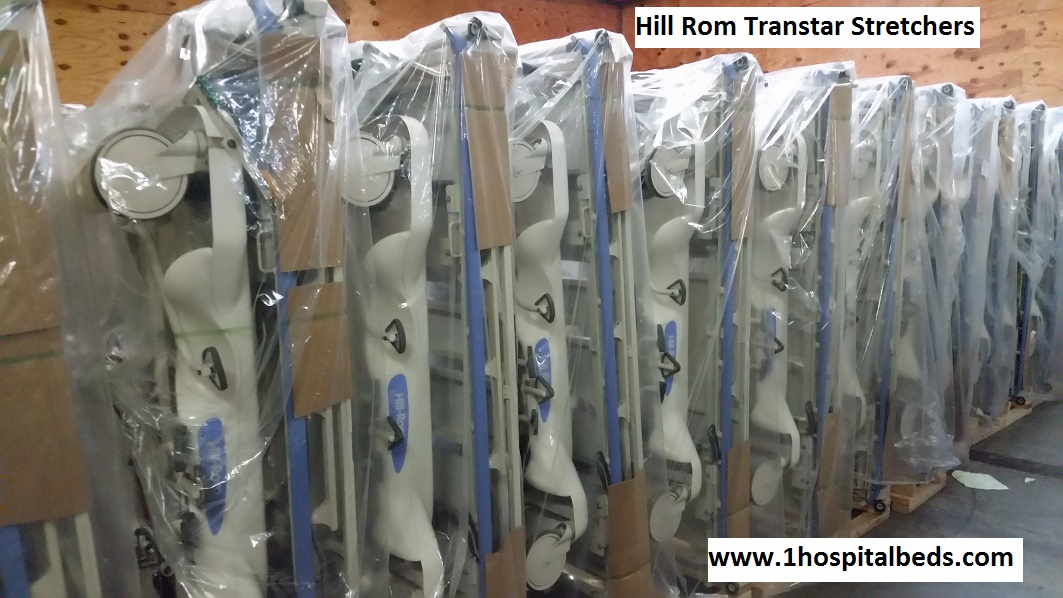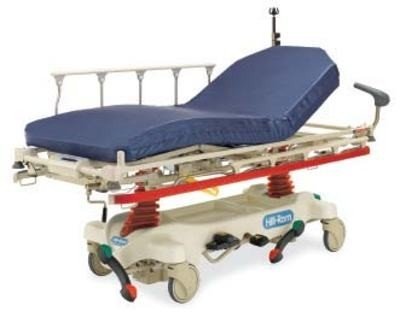 Hospital Direct Medical Equipment
"New, Used and Surplus Medical and Hospital Equipment"
4901 Morena Blvd. #600
San Diego Ca., 92117
9AM to 5PM Mon-Fri
10AM to 2PM Saturday
USA Office phone: (858) 263-4894
USA Email: hospitaldirectmedical@gmail.com
Mexico / Latin America
Gloria Flores (858) 263-4894
Cell 858-922-6862
Se Habla Español
Mexico / Latin America Email
hospitaldirectmedical@gmail.com
Se habla Español Gloria Flores