Hospital Gurneys and Medical Stretchers for Sale
Used, Refurbished and Reconditioned Stretchers
We sell and buy hospital stretchers and transport gurneys
and have both refurbished and reconditioned gurneys
from Stryker, Hill Rom, Hausted, WY East Medical and more.
We are always getting new stretcher and gurney inventory in
stock and general pricing below includes some of the most
popular models we get in our warehouse.
Refurbished / Used Stretcher Pricing – general prices
Pricing based on age and condition of stretcher and
number of units purchased.
MOST POPULAR STRETCHER MODELS
Midmark stretchers = $450 – $700
Hausted Century and Horizon stretchers = $600 – $850
Stryker Renaissance stretchers = $1,200 – $1,400  refurbished
Stryker 1501 stretchers = $1,400 – $1,800 refurbished
Stryker 50-50 chair stretchers = $1800 refurbished -$3,400 reconditioned
Stryker 1007 and 1015 Glideaway stretchers = $1777 refurbished $3,477.00 reconditioned
Stryker Prime Series stretchers = $2,900 refurbished -$4,700 reconditioned
Hill Rom P8000 Transtar stretchers = $1,400 refurbished – $2,500 reconditioned
More Stryker Stretcher Models – email us for pricing
Stryker 1211, Stryker 1711, Stryker 721, Stryker 720
Stryker 1010, Stryker 1510, Stryker 1001, 1015, 1003, 1005 and 1007
Stryker 1068 Eye Stretcher
Stryker 1080 IMAGING
Stryker 1060, 1061 OB-GYN stretchers
Stryker Prime Series stretchers including 1105, 1115 and 1125 models
Hill Rom Stretcher Models
Hill Rom P8000, P8005 Transtar stretchers
Hill Rom 8050 OB-GYN stretchers
Hill Rom transtar stretchers come in 500lb weight capacity and 700lb bariatric weight capacity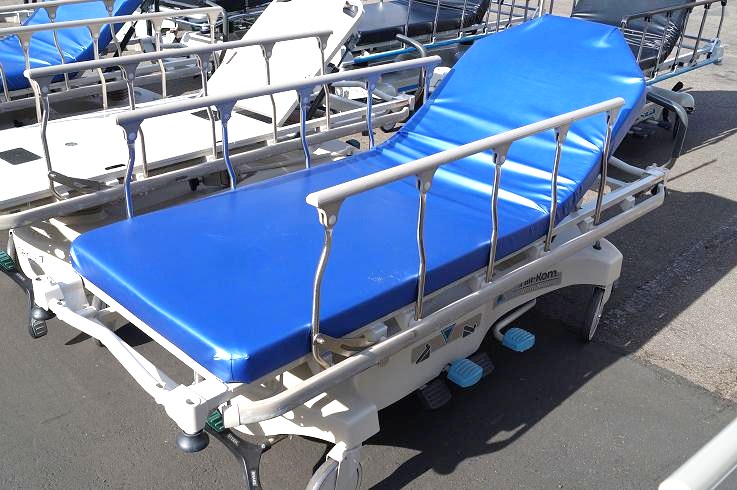 We sell gurneys and stretchers fully refurbished and reconditioned
to good working condition for  hospitals, clinics and medical
centers needing x-ray gurneys, ER transport stretchers, MRI gurneys,
ultrasound transport gurneys, transport chairs, PACU stretchers and more.
Gurneys and Stretchers In Stock Now – Ready for Sale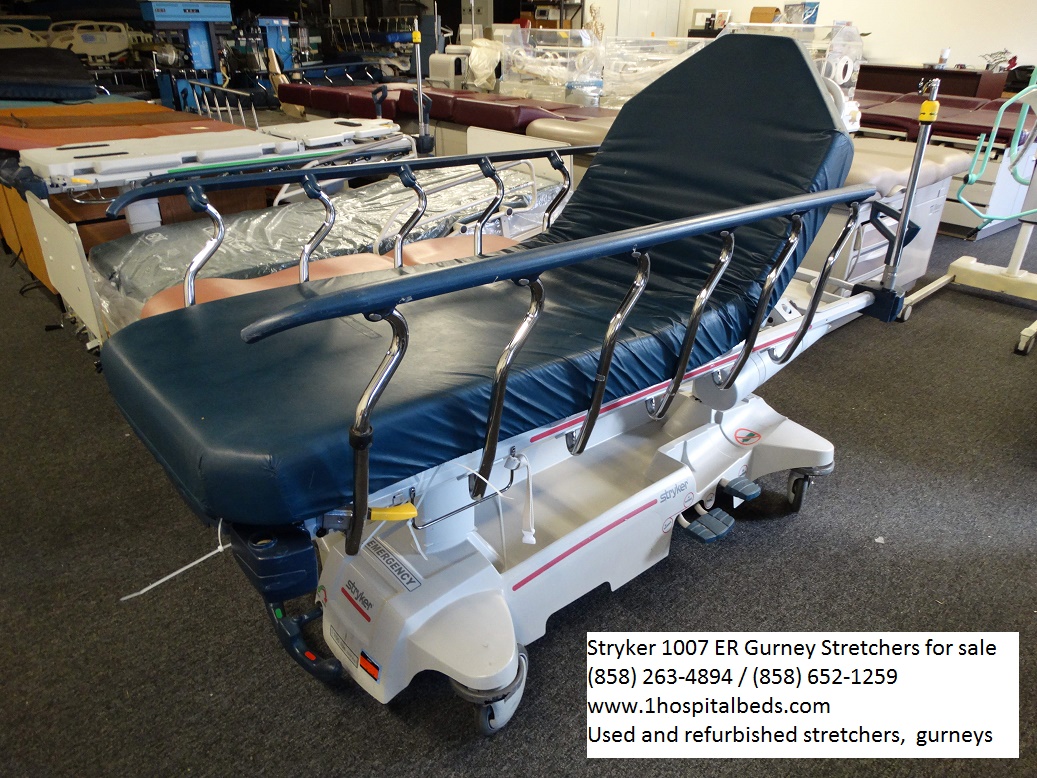 Stryker 1007 "ER" Stretcher – now in stock and ready for immediate sale – this emergency room "ER" stretcher – gurney is one of the most popular models in the used – refurbished stretcher market.  More photos and information on the Stryker 1007 stretcher gurney click here
PRICE: $1,799.00 – learn more about this stretcher – click the link below.
Stryker 1007 stretcher gurney operator manual
Hill Rom P8000 Transtar Gurneys Fully Refurbished $2450 each
New wheels, brakes, paint and mattress pads and refurbished,
rails, stickers, plastic. These stretchers include a 1 year warranty and
come with a new mattress pad. Learn more about the Hill Rom P8000
Transtar stretcher gurneys click here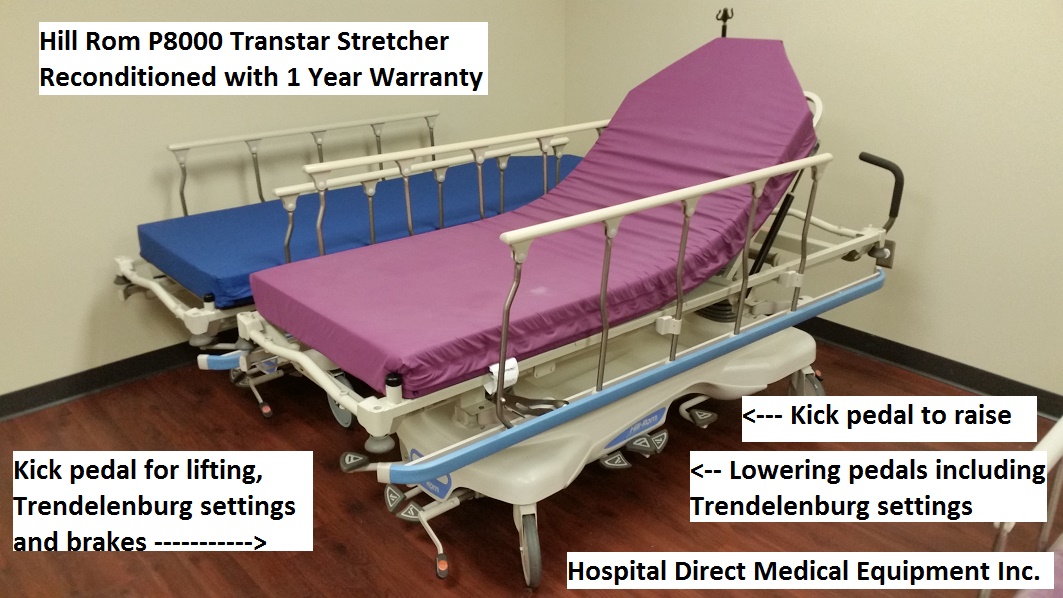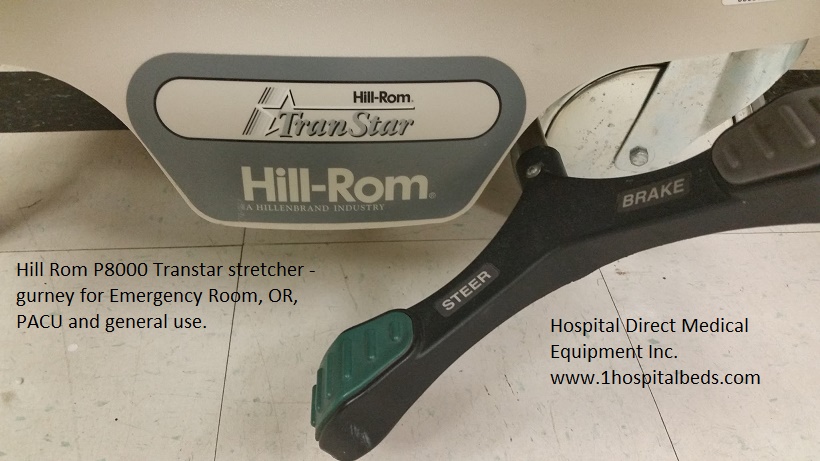 Hill Rom Transtar Transport Gurneys
with 700 lb bariatric weight capacity reconditioned only $1,950 each with new
mattress pads. See photos below for these popular bariatric stretchers
/ transport gurneys.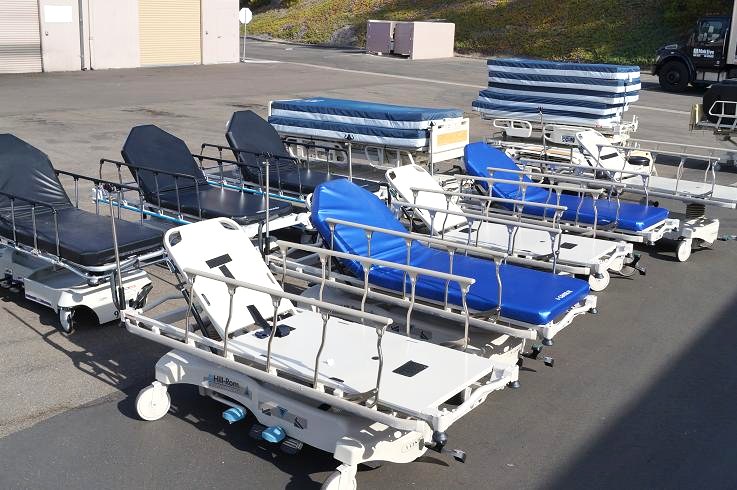 Transfer stretcher chair gurney for sale – Top seller is our Stryker 5050 chair stretchers
used for minor medical procedures and patient transfers.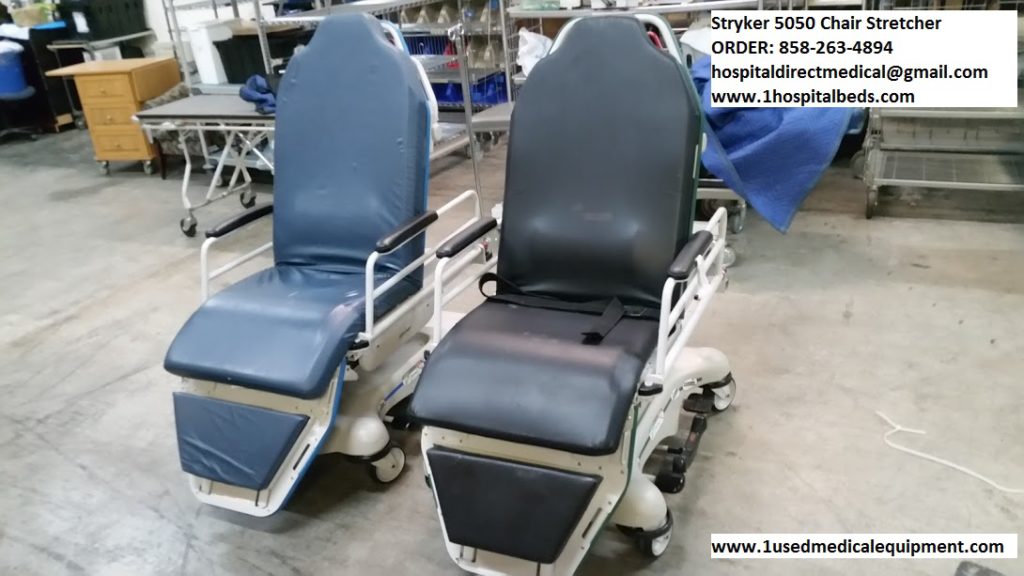 We have always got a good selection of stretchers and
transport gurneys for sale from Stryker, Hausted and Hill Rom
including Stryker 721 Stretcher and Transport Gurney.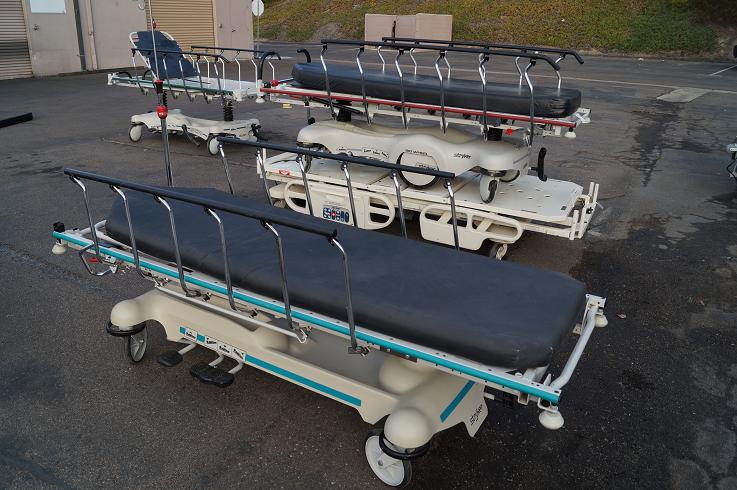 We are always getting used stretchers and gurneys from
Southern California hospitals including models from
Styker, Hill Rom, Hausted and Midmark.
Stretcher prices range from $750 to $3,500 depending
on the age and condition of the gurney. We can fully
recondition and refurbish gurneys to hospital quality
standards although many gurneys in our inventory are
in excellent working condition "as is".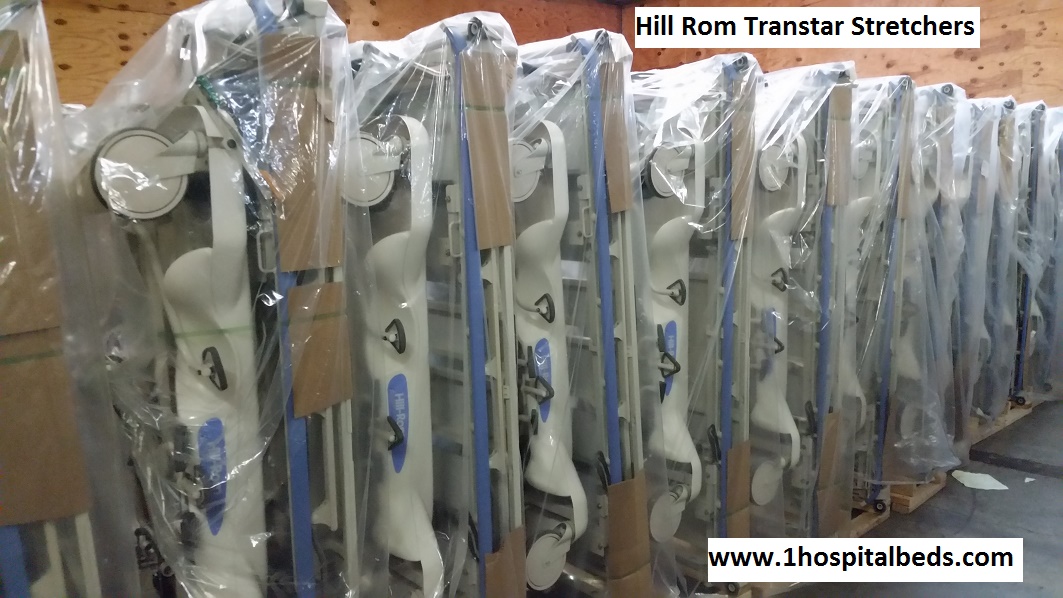 CURRENT GURNEY AND STRETCHER INVENTORY
Stryker 5th Wheel Gurney, PACU Transport Stretchers and more
in stock. We have stretchers by Hill Rom, Stryker, Hausted and more.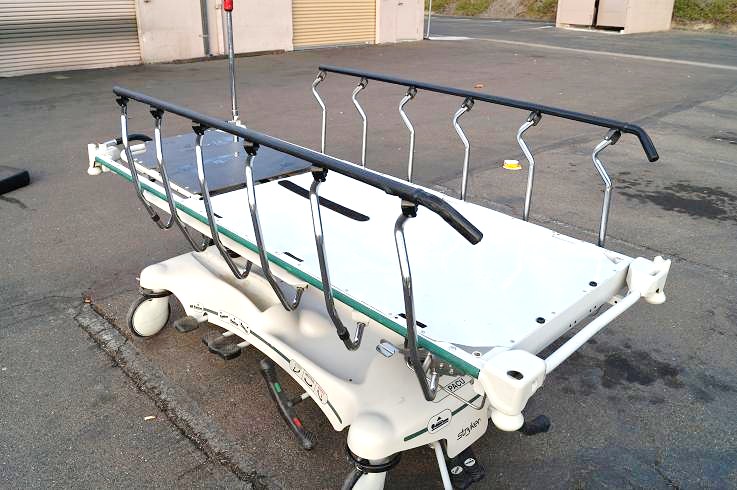 Email us what you are looking for and we can source gurneys and
stretchers from hospitals or fully recondition and refurbish them
to new condition. Email us at getinfo@san.rr.com
Hausted Unicare Series 2 Gurney with mattress and head piece $800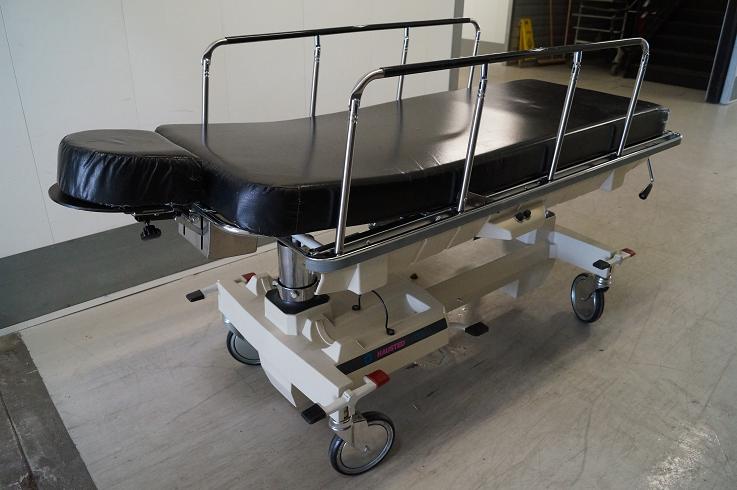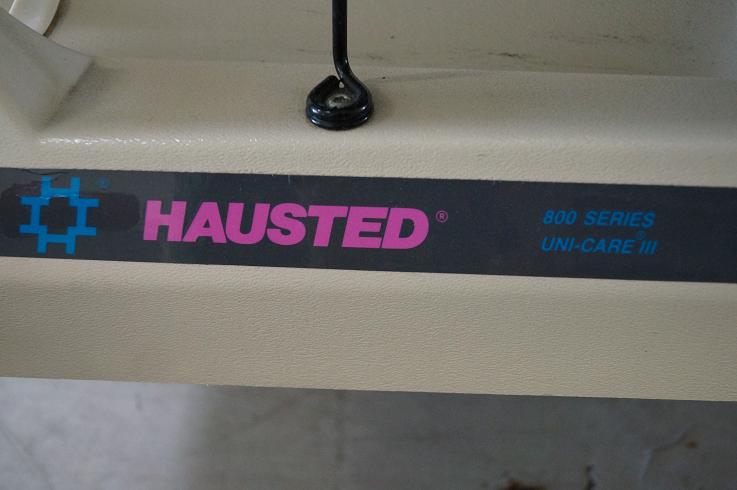 ORDER / BUY hospital gurney call 858-263-4894 or
email us at hospitaldirectmedical@gmail.com for more information.
Ask about our refurbished Hill Rom P8000 Transport Gurney's
and other refurbished stretcher inventory built to order.
Used, Reconditioned and Fully Refurbished Gurney's and Stretchers
by Hill Rom, Stryker, Hausted, Mid Mark and more! We provide and supply
a large number of hospitals and clinics with fully reconditioned gurney's
transport stretchers and other hospital furniture and equipment.
HOSPITAL GURNEYS AND STRETCHERS FOR SALE
DEALER WHOLESALE PRICING RECONDITIONED AND REFURBISHED
OR SOLD "AS IS" DEPENDING ON HOSPITAL OR MEDICAL BROKER CLIENT.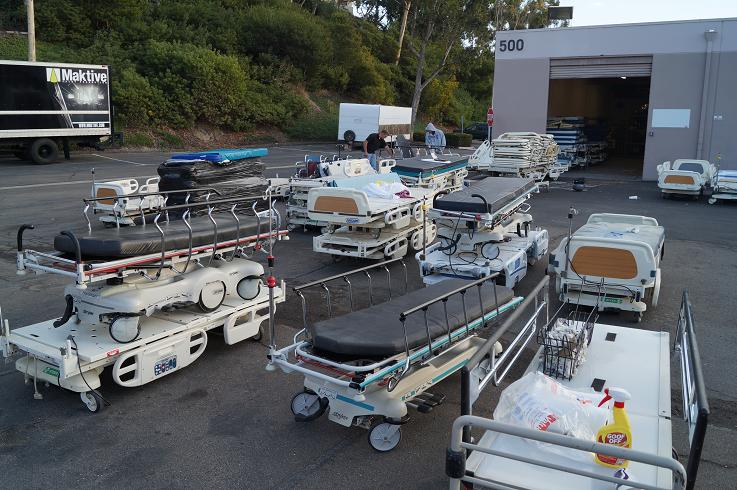 Hospital stretcher and gurney models and photos -wholesale pricing available for large orders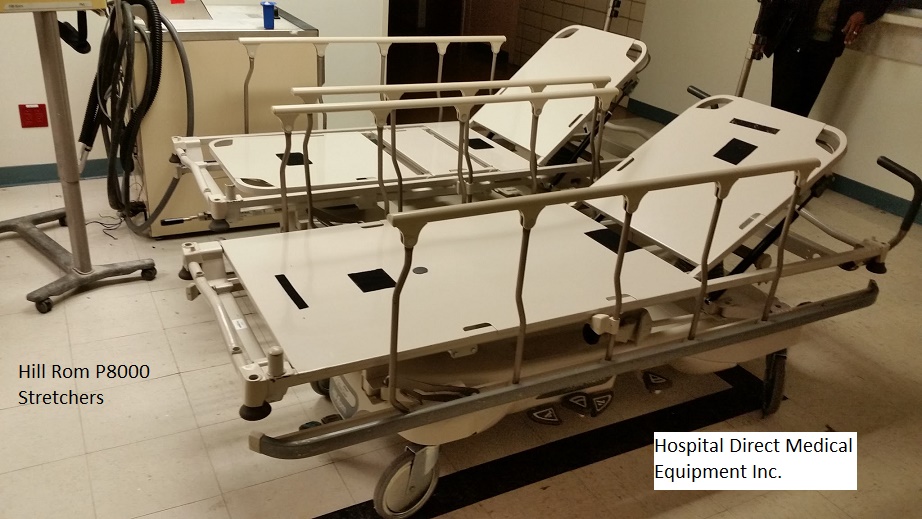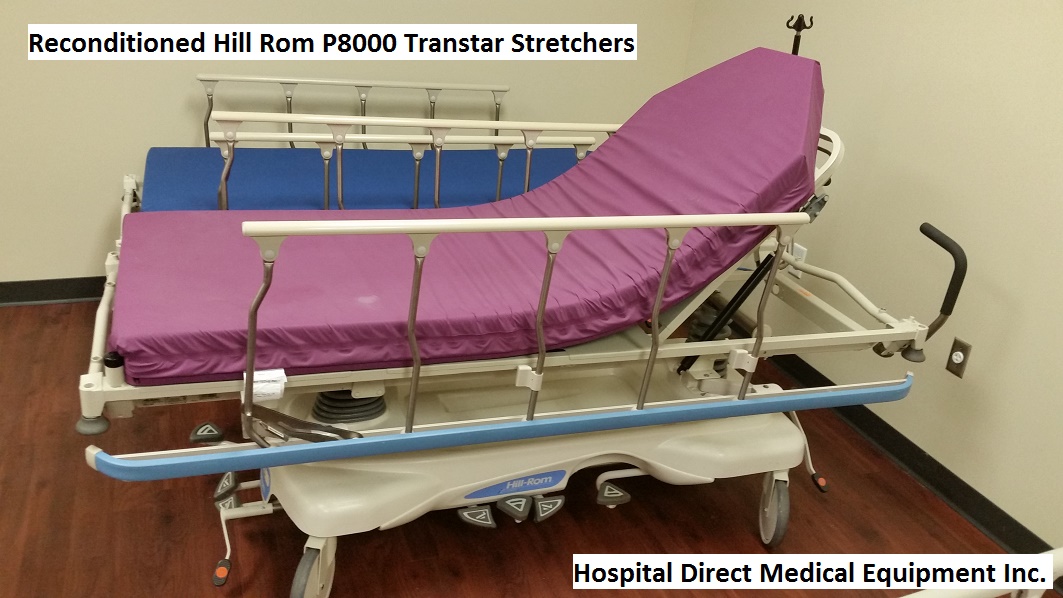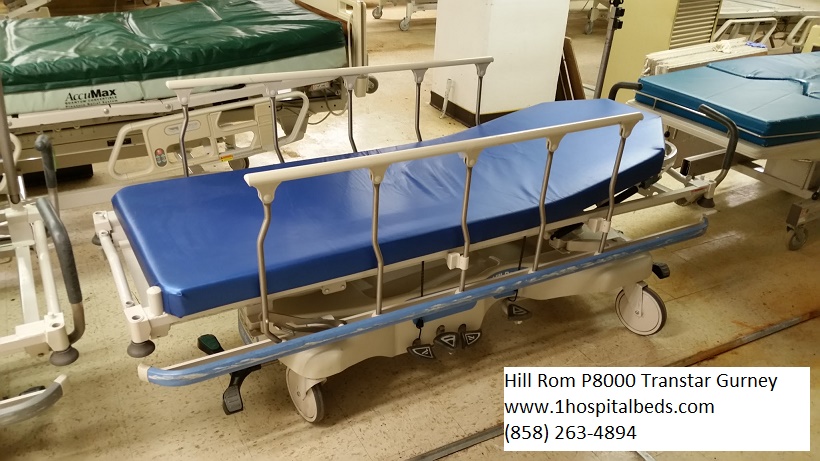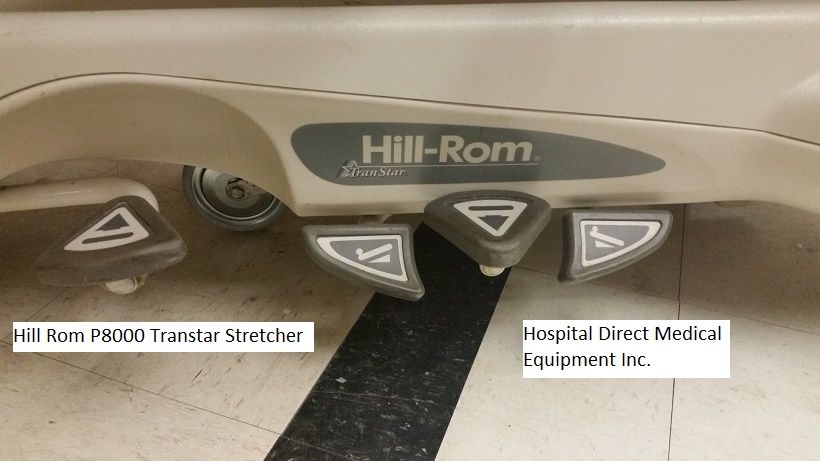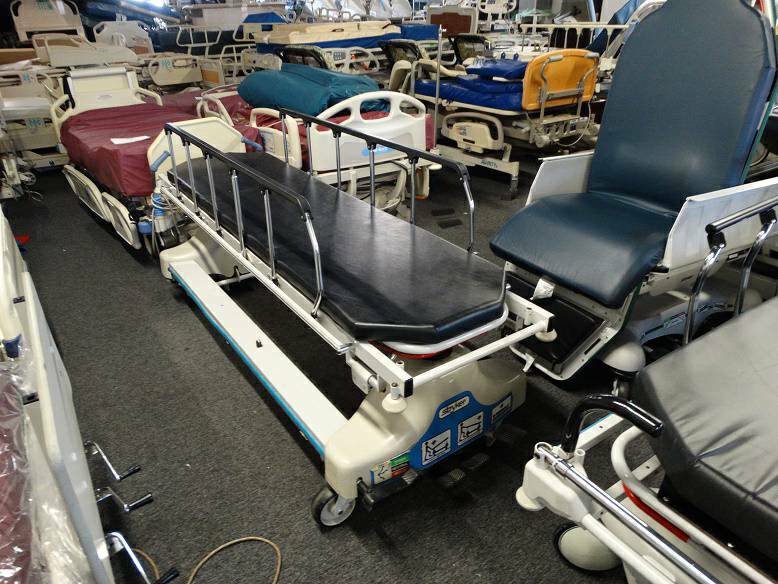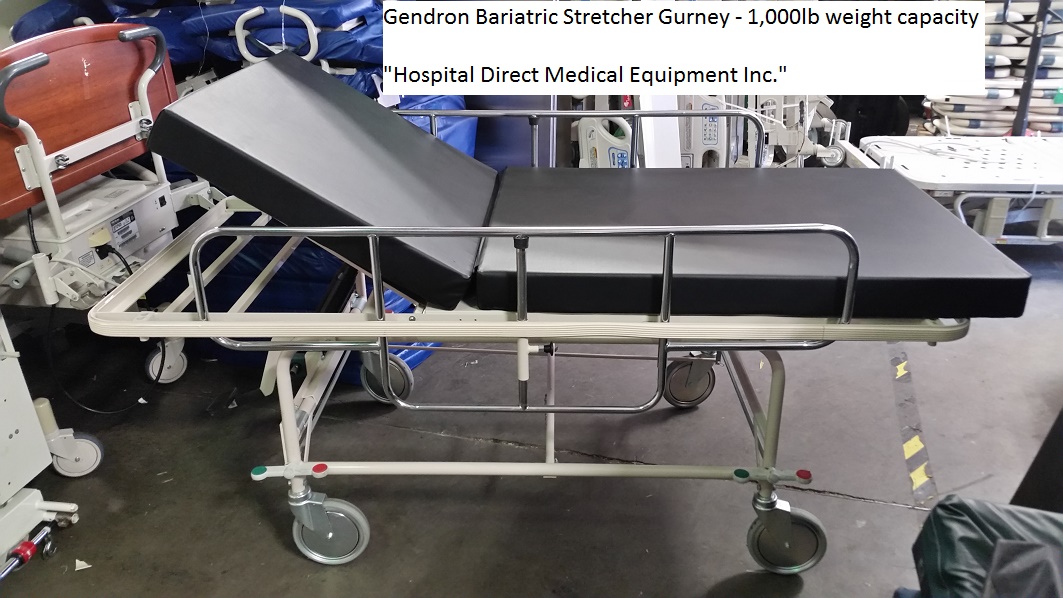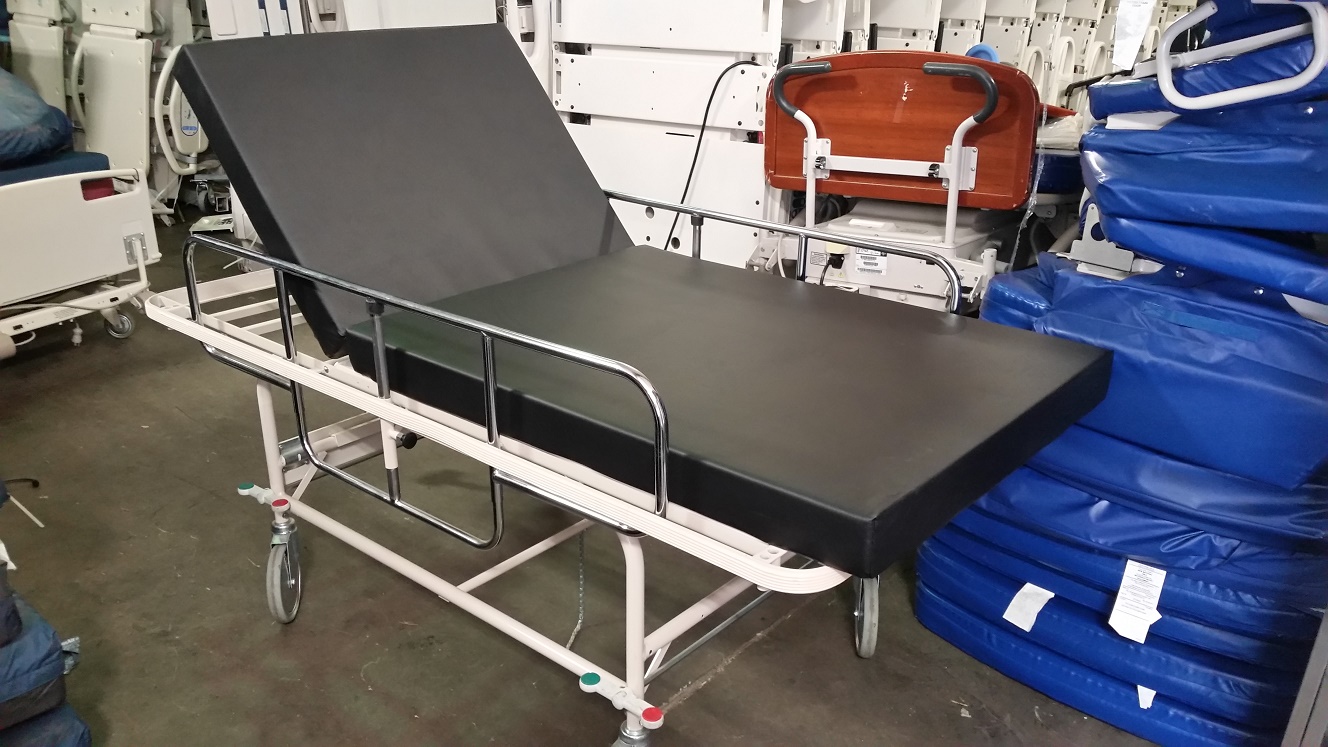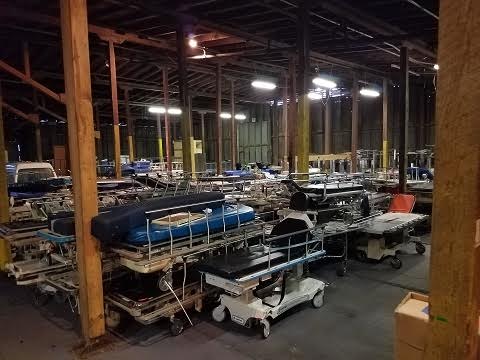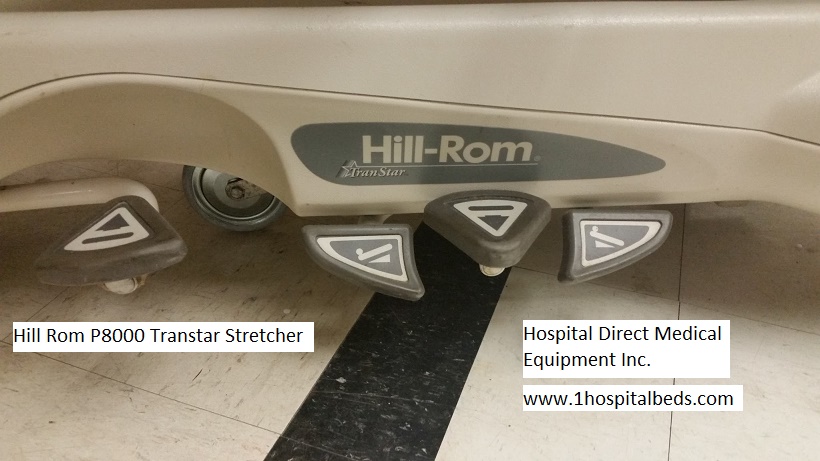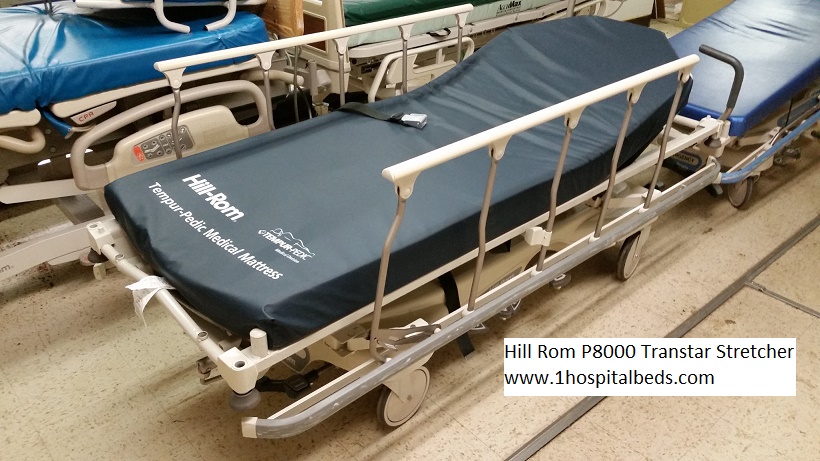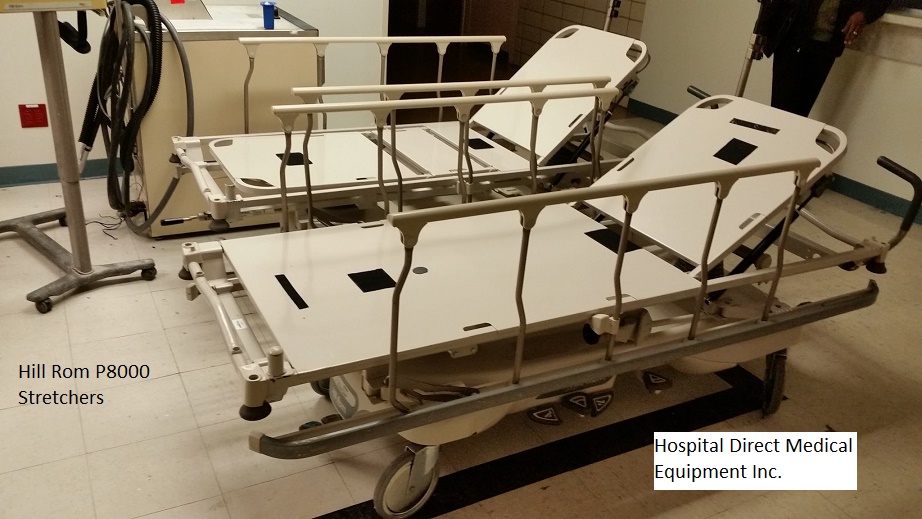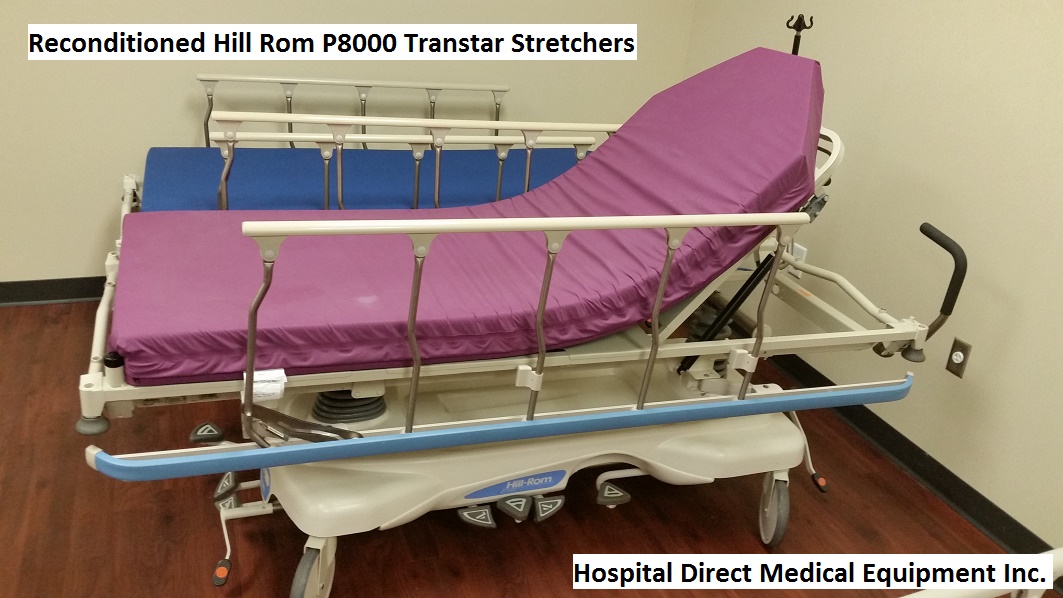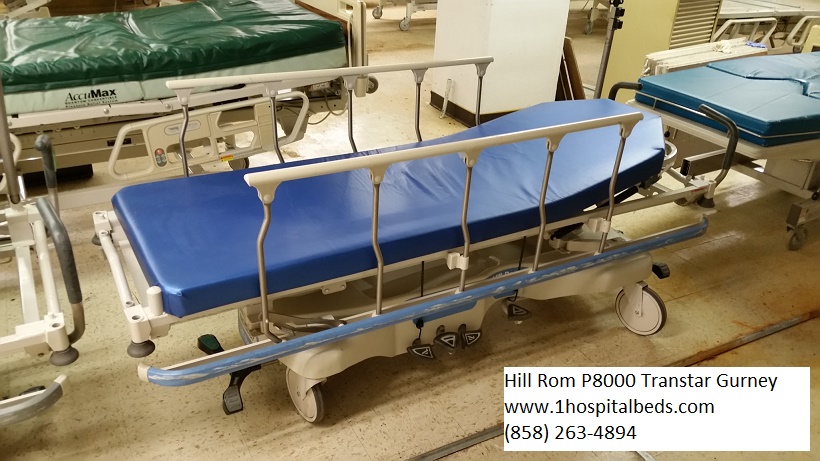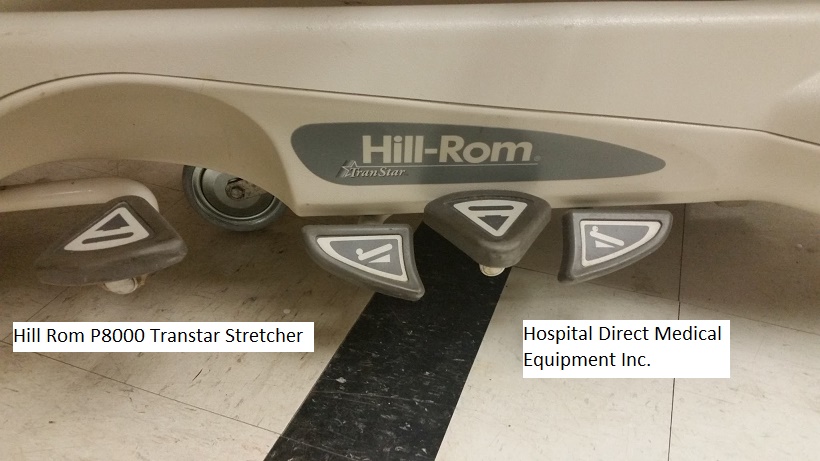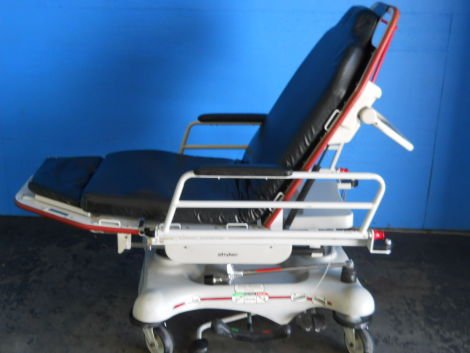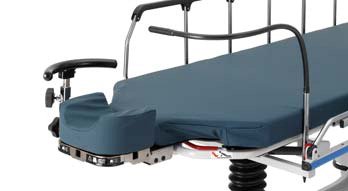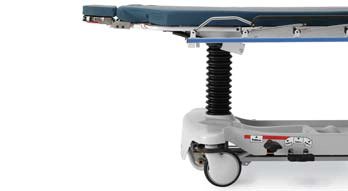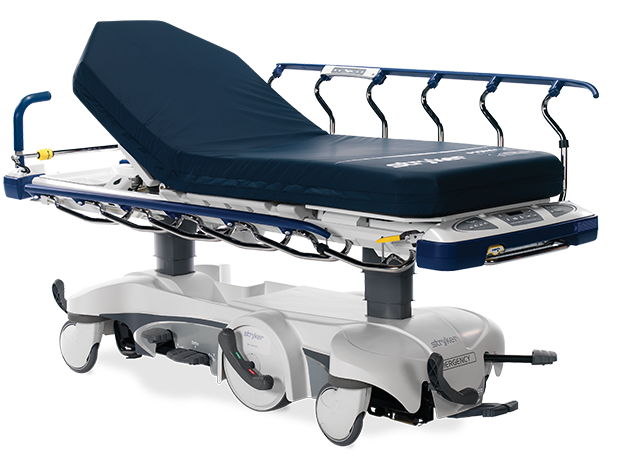 Looking for a hospital stretcher or gurney model and do not see it here?
We can get it or may have it coming in on a future purchase of medical equipment.
We carry a wide variety of used – refurbished hospital gurneys and also have
contact with hospitals all over the USA who are getting new inventory and
getting ready to sell off older stretcher assets.
Contact us below for stretcher models in stock or for special requests.
Hospital Direct Medical Equipment
"New, Used and Surplus Medical and Hospital Equipment"
4901 Morena Blvd. #600
San Diego Ca., 92117
9AM to 5PM Mon-Fri
10AM to 2PM Saturday
USA Office phone: (858) 263-4894
USA Email: hospitaldirectmedical@gmail.com
Mexico / Latin America
Joana (858) 263-4894
Se habla Español
Mexico / Latin America Email
hospitaldirectmedical@gmail.com
Se habla Español Gloria Flores
We supply the following types of stretchers and gurneys
General procedural Stretchers
Transport Stretchers
PACU Stretchers
Trauma Stretchers
Eye/head/Neck Stretchers
Imaging / C-Arm Stretchers
Big Wheel Stretchers
Bariatric Stretchers
Used – Refurbished – Reconditioned Medical Gurneys and Stretchers
San Diego California and Richmond Virginia